Your website acts as the first impression for customers and clients. In part one, we gave you the rundown on web design statistics and a few pointers on creating an epic design. If you missed that post, check it out here. 
You may not be designing your site from the ground up, but we encourage you to audit your existing site against today's tips. What checks out and how can you make improvements? A well-designed website doesn't mean it has to be a robust or high-tech site. Really, a lot of intentionality and attention to detail will result in a website that puts the user's needs front and center.
Let's get straight to today's tips!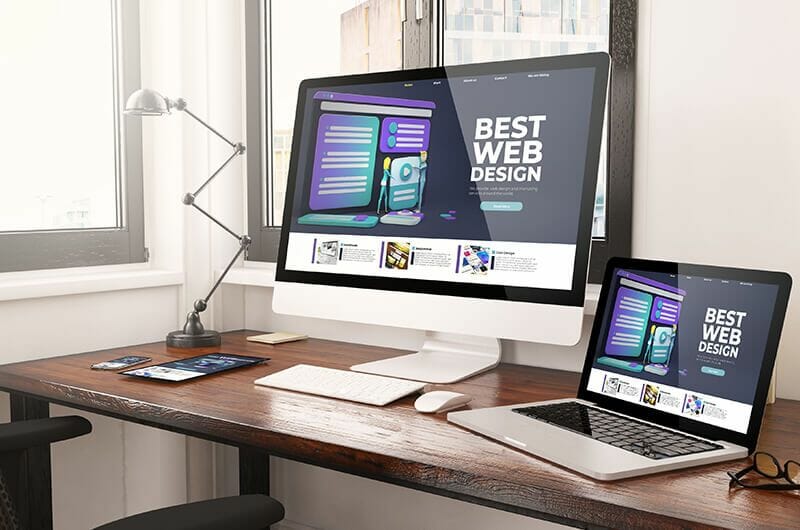 Provide Value to Your Potential Customers
There are multiple reasons to give site visitors value straight out of the gate.
Here are just a few:
Builds trust in your brand
Showcases your brand's value
Encourages engagement with your business
It gives sharable content for customers to "market" your business for you
So, how do you provide value on your website? We discussed social proof in last week's post and how it elevates your brand's expertise. There are multiple ways to pique visitors' interest and get them to stick around.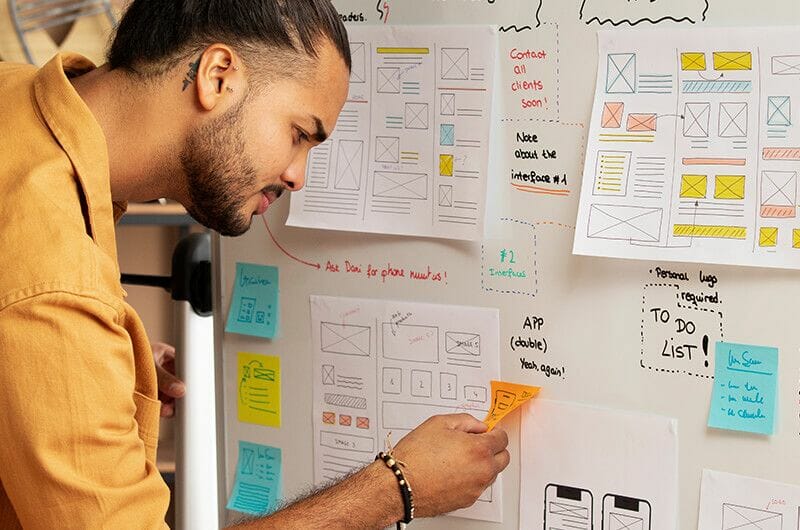 Three ways to provide value to your customers:
Integrate a chatbot into your web design. Customers need a place to get answers to their questions. Enter chatbots. They provide the customer service element while also adding value to your brand. Customize your chatbot to fit your brand to create a memorable customer experience.
Have a free resource library. Provide immense value while also capturing emails and building your email list. A free resource library should be more than just one pdf download. We recommend using multiple kinds of media since we're all unique and retain information differently. Webinars, downloads, audio recordings, and interactive worksheets are all great fits for a resource library. Build a robust library that rivals your competitors and you'll generate loyal customers!
A Brand That Got it Right
Our web design partners at Lucent Creative built an epic landing page for a boutique African travel agency. Check out the value that's offered to customers right away.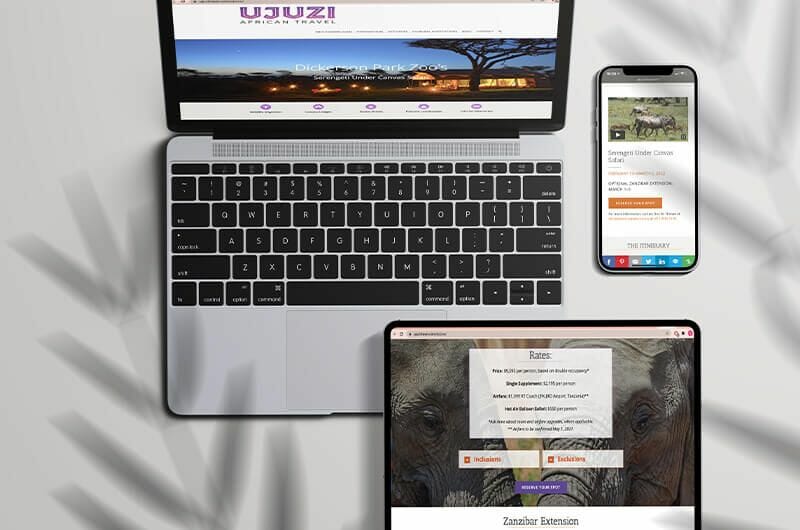 Use Design to Amplify Your Website Messaging
Web Design and copywriting rely on each other to create a memorable site for your potential customers/clients. Work with a designer that sees the value of emphasizing your brand's message. A web designer and copywriter essentially have the same goal–to put your brand on the map and create an uncomplicated journey for your customer to commit to a purchase.
Here are a few tips to keep in mind for optimizing your message through design:
Use a variation of fonts, underlining, or italics to emphasize specific words
Design with photos that support your message
Give clients the same concise call to action
Your design and brand messaging should go hand-in-hand. Our biggest piece of advice would be to have a look at some websites you like and then, pull inspiration for your project. Here's a round-up of our favorite projects by Lucent Creative. Pay attention to how the design supports the message:
Brands That Got it Right
A dog training and pet care services company: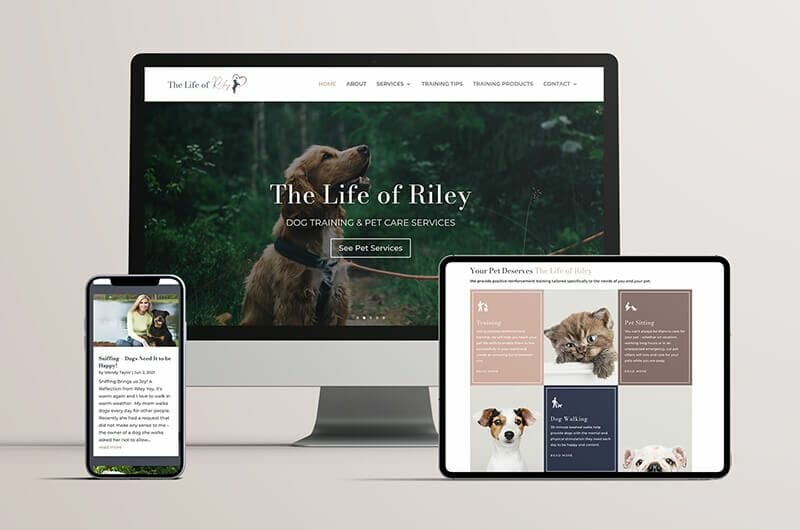 A pizza franchise brand: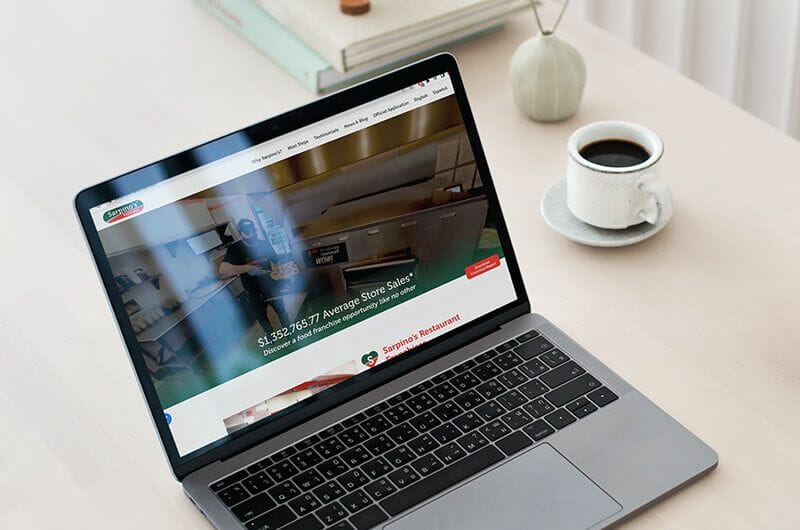 An online event: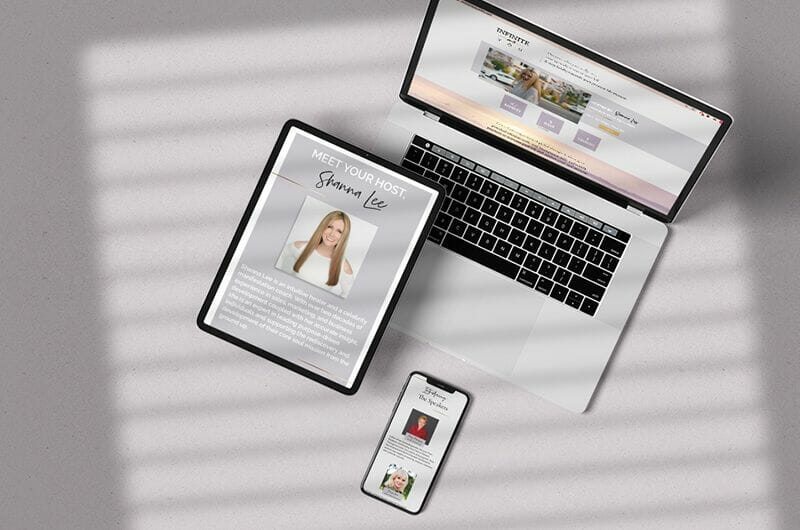 Optimize Your Website with SEO
Search Engine Optimization is a specialty as it should be! It's a multi-faceted beast and we're going to go ahead and suggest you hire an SEO expert.
Did you know over 53% of overall website traffic comes from organic search?
The difference between a DIY approach and hiring an SEO guru is that your website will see the light of day! Optimizing your site with SEO means:
Inserting an appropriate amount of backlinks
Optimizing existing content (i.e. old blog posts)
Keyword research and implementation
Perfecting messaging as you design, meta descriptions, alt image text, etc.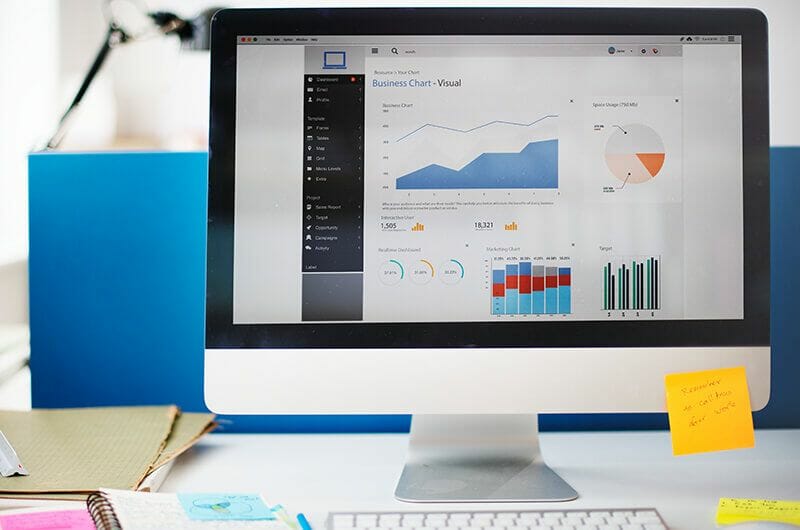 As with any strategic marketing move, you'll want to work with someone who also understands the data. What are your analytics teaching you about your current setup? Where are there areas for improvement?
A Brand That Got it Right
Our partners at Lucent Creative have an SEO team and we've worked closely with them to optimize our site.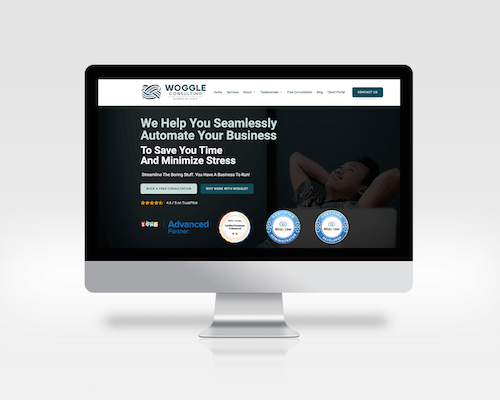 Before You Go
We've already established your business needs a great website to compete in the online space. It's not only a great first impression for potential clients, but can also act as an ongoing resource for existing clients.
Whether you need a website refresh or need one from scratch, we're in the business of helping! 
Learn more about our partners at Lucent Creative here.
Contact our team to book a free consultation call. 
Don't forget to catch part one of this series. 
In the world of remote work, we've all adjusted to sending files in a flash and requesting e-signatures. It's the age of celebrity-grade autographs, but for everyday business owners like us (lucky!).
If you're reading this and wondering how you can "Marie Kondo" your inbox to spark more joy, we have good news! We've put two of the e-signature platforms head-to-head in the ring and we have a winner!
Imagine it.
You've been in the online space for a hot second and are finding your document management isn't working so great.
Important documents aren't being signed on time, are being stored all over your desktop (next to solitaire, of course, because it never ages), and your business is on the 'Hot Mess Express'.
Here's our breakdown of Docusign and Zoho Sign to get you out of an organizational funk and into streamlined bliss.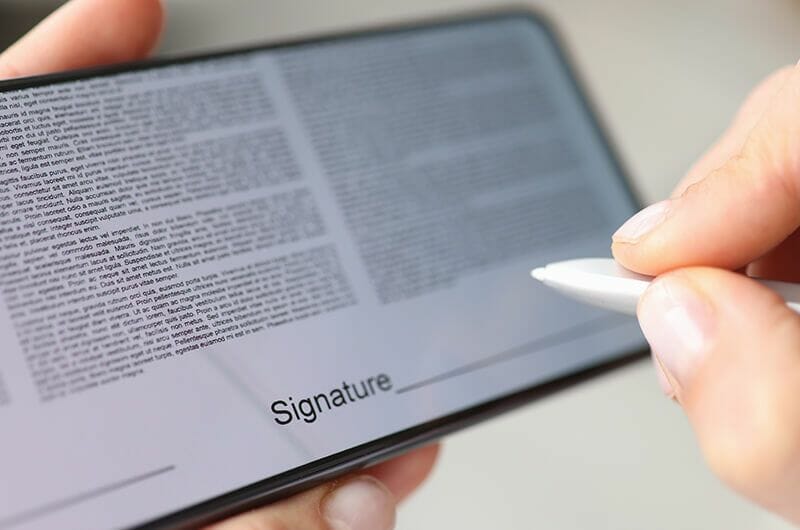 DocuSign Features in a Nutshell
DocuSign is one of the more popular signing services you have probably heard of. Here's a quick overview of their features found directly on their website:
Sign remotely
Send securely
Scale as you grow
Tap into 400+ integrations
DocuSign connects with other applications like Microsoft, Google, Salesforce and Workday which is a huge win. As one of the largest e-signing platforms, DocuSign has a lot of grit and a great reputation.

Although DocuSign has been around for a while, we wish they had a free option for business owners to try before they buy.
As Zoho fans, we're biased and aren't afraid to admit it. Here's how DocuSign stacks up against Zoho Sign. Hey, we don't have favorites without good reason!
Zoho Sign Features
We're going to go through Zoho Sign's features and do a side-by-side comparison for you with DocuSign. When you're using a platform in your daily business operations, it's important to know the ins and outs of features.
Let's start with the area that matters most to business owners–cost analysis.
How Much Does Zoho Sign Cost?
Zoho Sign offers more bang for your buck, especially if you're already a true fan and user of Zoho products.
Here's the breakdown!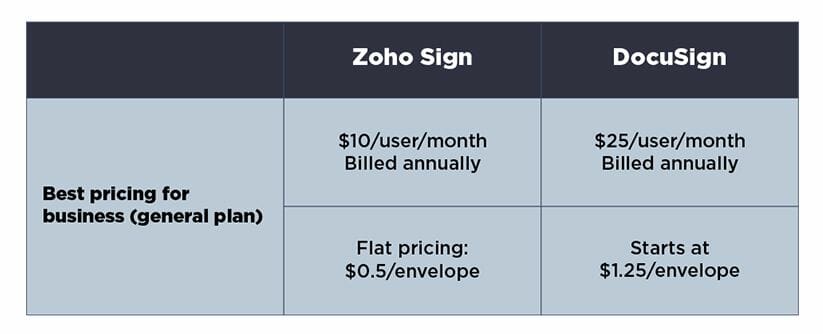 Zoho Sign offers a free version while DocuSign doesn't. This is perfect for those wanting to take ZohoSign for a test drive, or ultimately stick to that free version with no strings attached!
Can I Use Zoho Sign Without Zoho One?
Sure thing! Zoho Sign is a stand alone platform. You may use it solo or in tandem with your other Zoho platforms. We recently wrote an entire blog about Zoho Sign as a solo platform and you can catch that here.
Is There Zoho Sign Support?
Zoho's support team is unmatched! It's one of the many reasons we're such fans. Getting timely support keeps your business on track and we've had several SOS calls with Zoho support over the years. The truth is–they always pull through! Always.
Here are a few perks of going with Zoho Sign vs. Docusign.
Reliable Zoho Sign Tech Support
They're on call and they're basically the batman of business support!
Zoho Training Web Support
Biweekly webinars walk new customers through learning the application and integrations quickly and easily. We love this!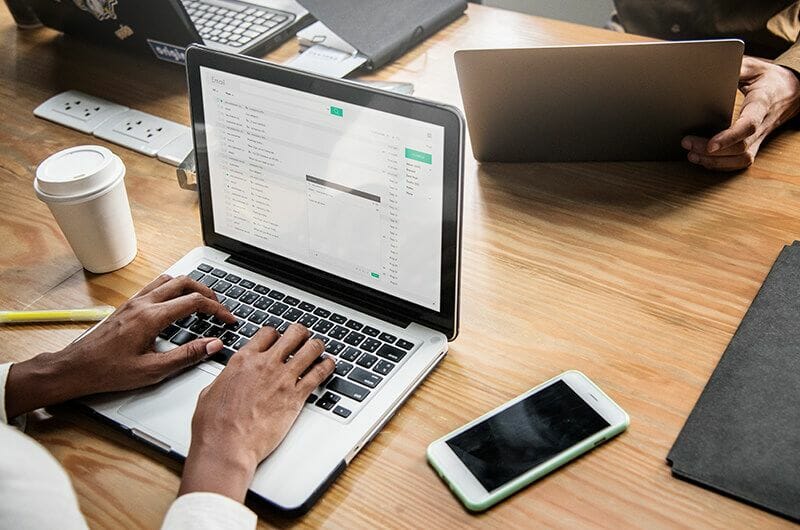 Does Zoho Have a Free Trial?
Yes! You can take Zoho Sign on a test drive for 14 days. That's two whole weeks for your team to taste test Zoho Sign's perks for two weeks. If you don't fall in love with the efficient platform then you can bail without being charged a dime.
Zoho Sign in a Nutshell
We're huge fans of Zoho. Zoho Sign can help you reduce your business's carbon footprint. Signing online and e-signatures helps your team save loads of time, too! Having all of your signed documents in one space checks the boxes for efficiency and cohesive business operations! 
Here are just a few areas your business can thrive with Zoho Sign:
Event registrations
New customer sign ups
NDAs
Sales order forms
Account change request forms
Do any of these ring a bell? Of course, the sky's the limit!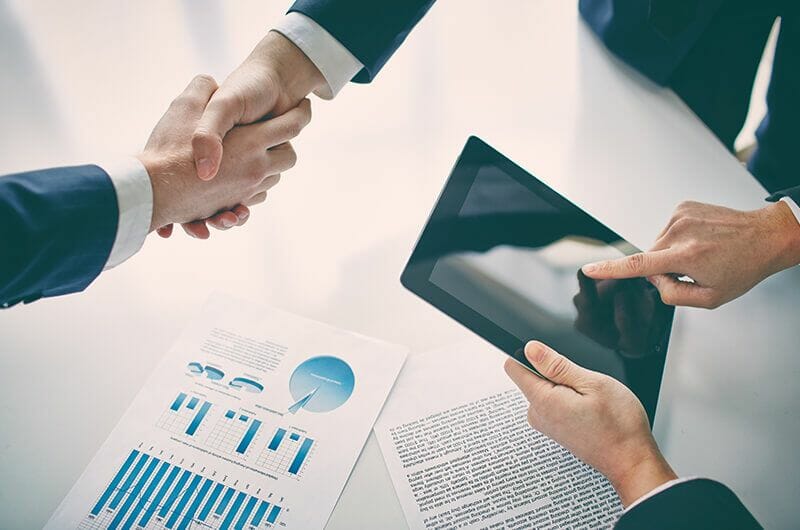 Is Zoho Right for My Business?
We're advocates for business owners and our consensus is this–Zoho is an incredible asset to any business in one form or another! Zoho Sign is an asset to your business that you can't afford to skip. E-signatures have never been so easy. With a free 14 day trial and a free-forever version, what's not to love? Click here to try it today!
We're Zoho Partners and experts. We're happy to book a free consultation with you and your team to see how we can get sustainable solutions in place for your biggest business headaches. You can book your free consultation here!
Take a deep dive into Zoho's offers in our recent blog posts to see Zoho's numerous offers!
Email marketing is integral to business growth.
Time and time again, email campaigns outperform social media when it comes to seeing a return on investment (ROI). For every $1 you spend on email marketing, you can expect an average return of $40.
Who does email campaigns best?
Well, we knew you'd ask so we created this snazzy comparison article for you. We'll jump in and compare two of the leaders in email marketing campaigns–Zoho Campaigns and MailChimp. First, let's explore a few tips for choosing an email platform that works for your business.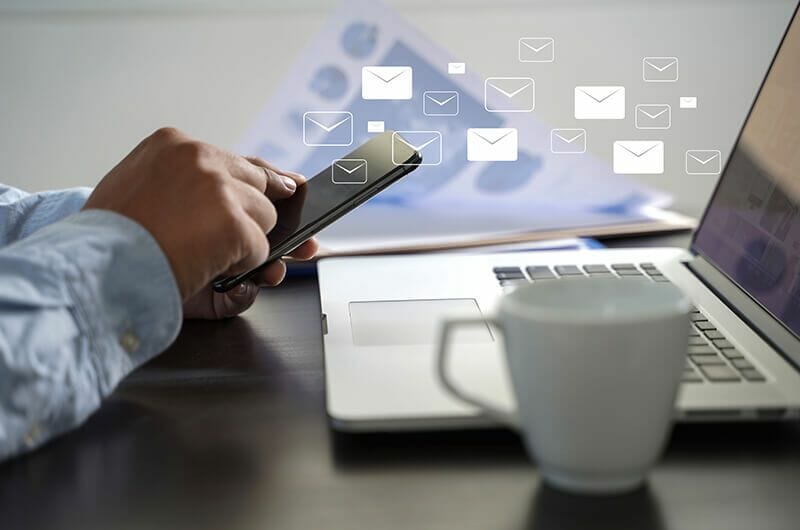 3 Tips for Choosing an Email Platform
Not all email campaign platforms are created equally which is a great thing in the long run. You want a platform that will meet your goals and have enough grit to provide the data you need to track performance.
Have a deep understanding of your target audience. Sending emails without an intentional strategy in place is like shooting arrows in the dark. Understand your target audience and how/when they want to hear from your business.
Invest in a platform that does more than send emails. Here are a few questions to keep in mind when shopping for the best email campaign platform.
How many campaigns can I build?
Can I create various funnels (warm leads, nurturing sequences, etc.)?
Is the platform robust enough for A/B testing?
Dig deep and understand how the platform reflects data. Are email recipients clicking through to your website and/or call to action? What is the open rate of your emails? How does the data inform your next marketing move?
These are three basic tips, but they'll help you stay focused on picking what works best for your campaign and your business as it grows.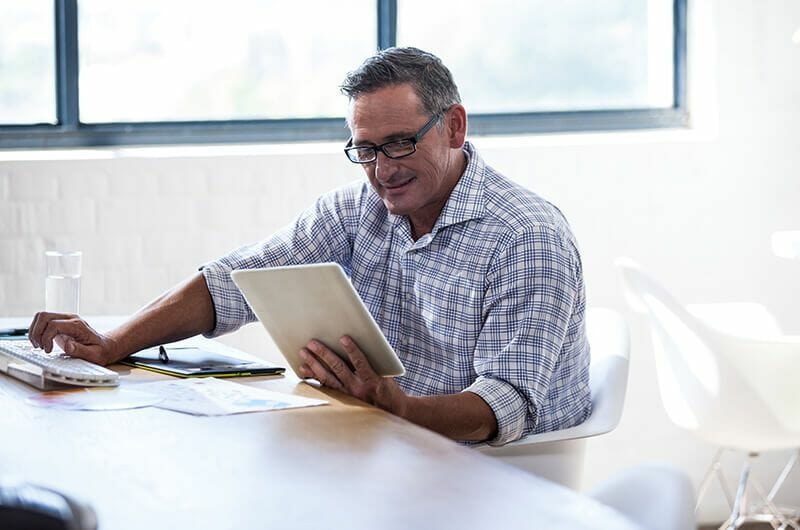 Visual Comparison of Zoho Campaigns and MailChimp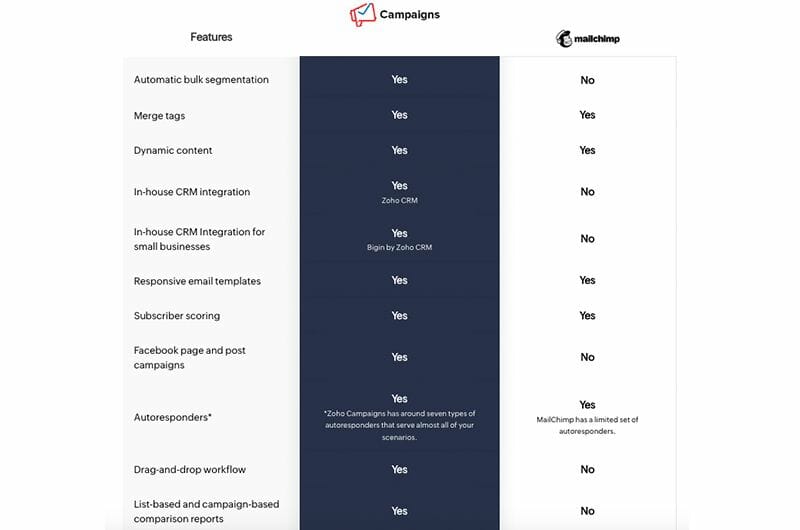 Pro Tip: If you're curious about the wider world of Zoho, we think you'll like to read up on these Zoho blog posts.
How Zoho SalesIQ's Customer-First Approach Can Boost Your Business
How Zoho Campaigns Outshines MailChimp
As official Zoho Partners, we may seem bias, but the truth is–we're sold on the benefits of Zoho because we use it every day. These features alone make Zoho Campaigns the better email platform.
Integrates Seamlessly with Zoho CRM
Already a fan of Zoho? The fun doesn't stop there! Connect with a wide range of apps from Zoho suite, bring in more subscribers and see how campaigns perform in real-time.
An Email Campaign with Epic Data
Observe your marketing's progress with reports on email opens, clicks, etc. See understanding more detailed reports of a campaigns' performance with campaign-based and list-based reports.
Customize Your Campaign's Automations
Trigger emails based on customer behavior (click-through, re-engagement emails, welcome emails after opt-ins, etc.). The magic is powerful and saves your team time!
Easy-to-Use Email Templates
You don't have to be a graphic designer for Zoho Campaigns. The preset email templates are ready for you to fill in and conquer your email campaign.
Save Money with Zoho Campaigns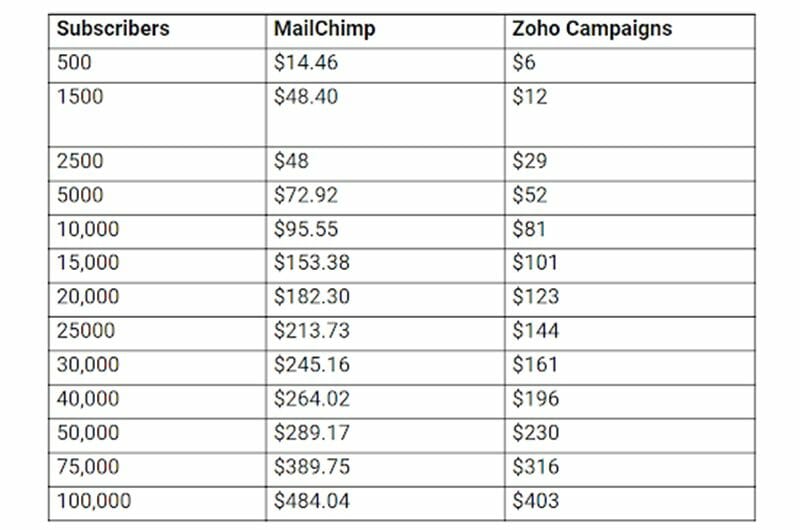 Before You Go
Email marketing is worth its weight in gold and you don't have to be an email campaign expert to get results. You just need a robust platform to automate. Our money is on Zoho Campaigns and many of our clients are tried and true fans, too.
You can get started with Zoho Campaigns today for free!
Want to chat through the benefits with a real person? Book a free consultation with our team!
Consider the RingCentral App your fairy godmother of communication.
Plot twist–you'll be hanging around RingCentral without caring if you make it to the ball. No need to worry about those designer glass slippers or if you'll make it home by midnight.
When you can communicate with your team from anywhere–any way you choose–and all from one app, you've officially "arrived".
Please note: RingCentral App apparently doesn't keep you from stretching a metaphor too thin.
Now, onto the perks of this awesome app!
Increase Productivity with RingCentral App
Teams are an ecosystem in themselves. Typically, they consist of like-minded people who have similar goals, vastly different roles, and unique ways of working to get the job done. Your business may have a preferred way of chatting through project management, but we're super fans of RingCentral's App because it allows us to do our jobs better.
Here's how!
We're in sync (NSYNC on Casual Fridays). Communication is key when keeping a project rolling. How many projects have you dropped the ball on because important details fell through the cracks? We've been there, too. Keeping team communication in one spot is 100% guaranteed to boost team efficiency.
Automatic status updates. RingCentral automatically lets your team know when you're unavailable or in a meeting. Consider this the virtual variation of a "Do Not Disturb" sign on the door handle. Small, frequent interruptions during your workday may be costing your project time and money.
Celebrate flexibility! If your team is spread across time zones or all share a cubicle pod, you need an app that will give you flex space. Ring Central allows your team to stay in touch and share files seamlessly.
Use the app to meet via:
These three reasons alone are enough to make us rave (raving fans, not 90s raves). There's more to love than just the productivity perks.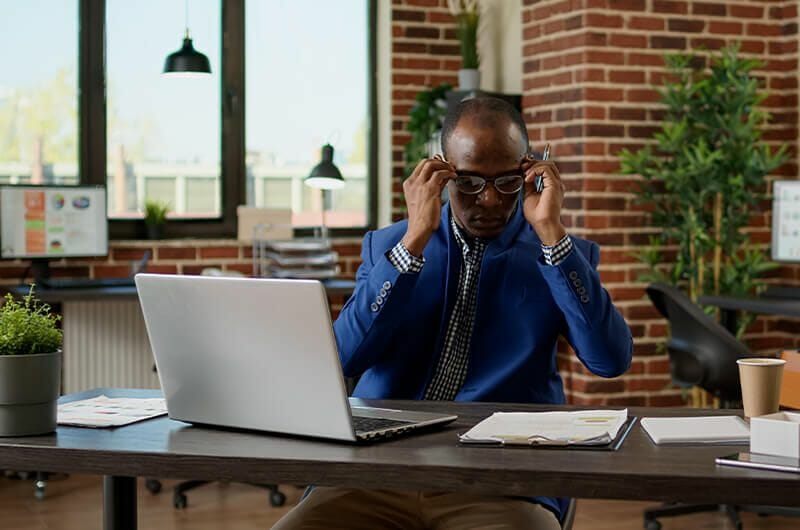 RingCentral is a Life Hack for Project Management
Did you get the link I sent?

You sent a link?

I sent a link.

To me?

Yep.

*The first Monday email of all time.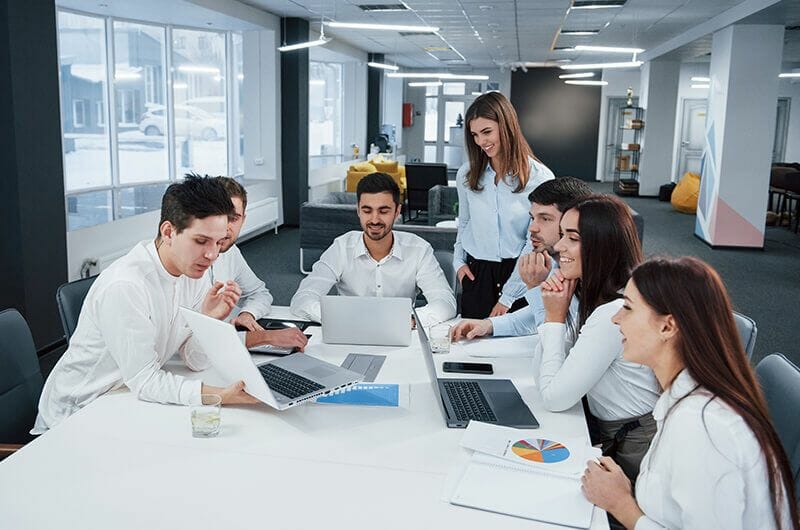 Share files: RingCentral App allows you to share files with your team during meetings without glitches, screens blocking the chat window, etc. Basically, this app allows your team to collaborate in real-time without losing time and focus on minimizing screens, switching platforms, and just making a mess of things.
Switch to mobile: Managing a team doesn't have to be confined to your office desk. We love that RingCentral App makes it easy to switch from desktop to mobile for meetings and phone calls. If your laptop is running out of battery, you can effortlessly switch screens without interrupting the meeting. The folks at RingCentral also did project managers a favor by making scheduling meetings as easy as one click of a button.
Compatible with Google and Office: It's amazing how much time RingCentral App saves our team and our clients. Having one platform for team and client meetings means we have data, important information, and upcoming events all in one hub when it comes to communications. It integrates with Google Calendar and Office 365 which is a perk!
Find what you need: Keyword search is robust in RingCentral, too! If you "drop" something within RingCentral, it's not far from the surface. Being able to search meetings, files, and contacts within the app without fail is always a win for our team, too!
RingCentral Rules the Modern-Day Client Call
You either love client calls or hate them.
You're either pacing before a meeting or sipping your coffee while exhibiting signs of superhuman chill.
There is no in-between.
Thankfully, we aren't afraid of a client call or two because our clients are the best (and RingCentral makes client calls less scary).
Here's what we have experienced and appreciated about RingCentral App:
Assigns a unique in-app phone number.
Clear HD video for meetings!
Being able to route incoming calls.
File sharing is amazing!
Use the app in-browser without having to download it.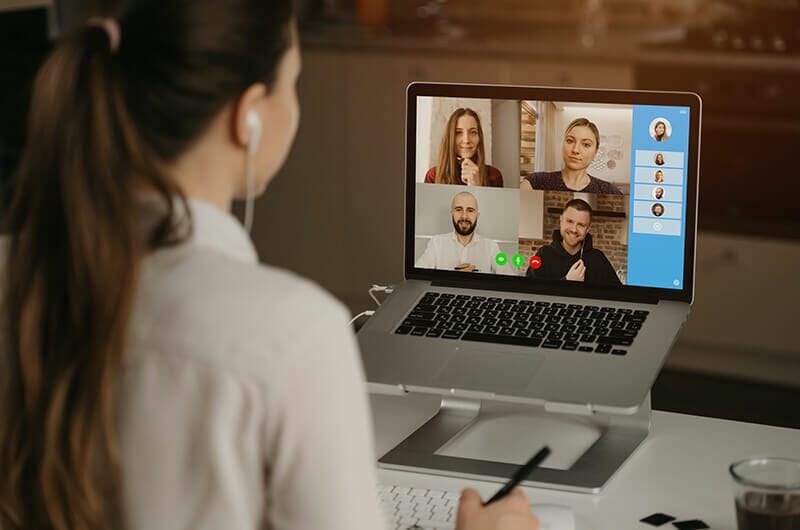 Tip: If you're passionate about getting your team set up for success, check out our post 7 Internal Team Issues That Can Be Fixed With the Right Platform.
Before You Go
RingCentral App helps teams keep their s*&%! Together when it comes to collaborating and having crystal clear communication (pun intended because…HD).
Use the app to meet via:
Remember, the app is full of essentials for project managers:
Share files
Keyword search
One-click schedule
Transition meetings from desktop to mobile
We're big fans of RingCentral and how they've done a solid job of keeping our team on the same page. Clients share their experiences with us all the time and RingCentral App always gets kudos for their easy-to-use app. Want to check it out for yourself? Request a quote here.
Want to find out how we can help you? Schedule a free consultation now!
You may sit blankly staring out a window most days pondering, 'If only there was a way to streamline my business operations and experience joy again.' The reality is, your business doesn't have to merely survive day-to-day. You can put systems in place that allow you to run your company more efficiently and finally feel like the boss you are (both literally and in the 80s lingo).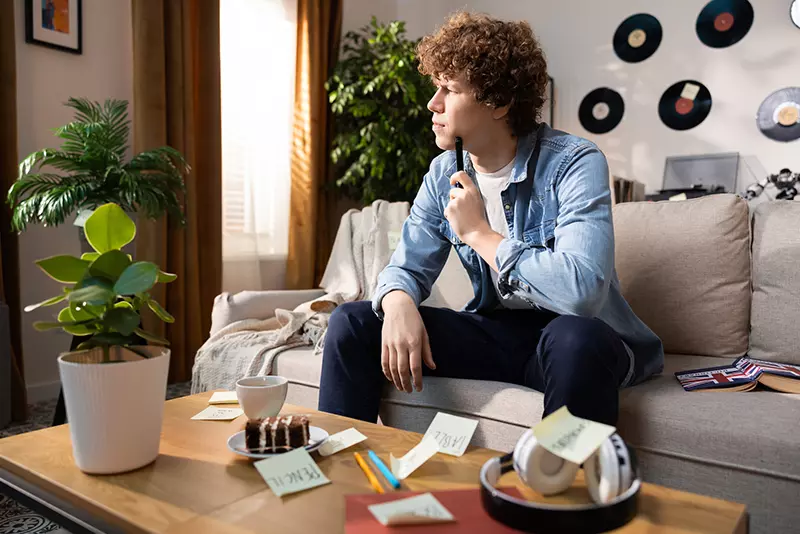 Enter Zoho, the one-stop shop for business automation goodness.
As official Zoho Partners, we are obviously huge fans of the platform and we see how its integrations improve business operations big and small.
We'll also show no shame in admitting that Zoho is (beautifully) complex. It's a platform that takes time to learn and ultimately, conquer.
Enter The Workflow Academy–where Zoho One begins to make a little more sense to the everyday user!
Afterall, every time a bell rings, a Zoho user becomes a Zoho Master (or something like that). 
What is Zoho's The Workflow Academy?
In a nutshell, The Workflow Academy is the superior spot for Zoho training. Whether you're the team's Zoho Admin or are all-in hanging out in the deep end of the platform, The Workflow Academy has a course with your name on it.
Have you been on the fence about getting Zoho for your business?
Here's your sign to go for it!
Oh, and a helpful statistic to drive the benefits home–92% of employees say having technology that helps them do their job efficiently affects their work satisfaction, according to a study by Ultimate Software.
Now that you know you can have an amazing platform to help run your business and learn how to master, what is there to lose?
Go ahead and make your free Zoho One account here.
We'll wait for you!
[cheesy elevator music]
Congrats! You're officially in the game with Zoho One now.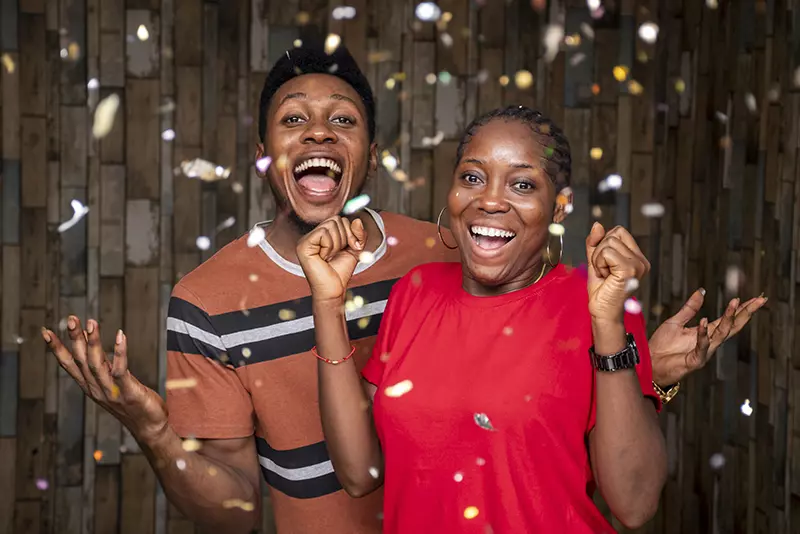 Let's continue to walk through the perks of TWA and get you enrolled in their free course.
Perks of The Workflow Academy
At Woggle, we see clients that don't realize the areas they're losing valuable leads, revenue, or customer satisfaction until they start using Zoho and see the data roll in.
Spoiler alert: sometimes it's areas they least expect or think they're excelling in.
Not only does your business thrive when problem areas are identified and remedied; employees are able to focus on what they do best with a little help from their friend (automation).
So, what does The Workflow Academy help Zoho users perfect?
Here's what we love about the courses over at The Workflow Academy:
✅Their online courses are free to Zoho users (yes, please!).
✅Learning is made easy to access across all devices.
✅There are so many courses to choose from! (Zoho One, Zoho Books, Zoho Projects, oh my!)
✅Empowering your staff to understand Zoho on a deeper advanced level
✅Get a better understanding of how Zoho works on the backend
✅Learn how to properly architect a solution that will work for your company
✅Diagnose needs and find a partner that will work well with you to create a customized solution
Pro Tip: Read our  blog post on why hiring a Zoho consultant is the right move (objectively, of course).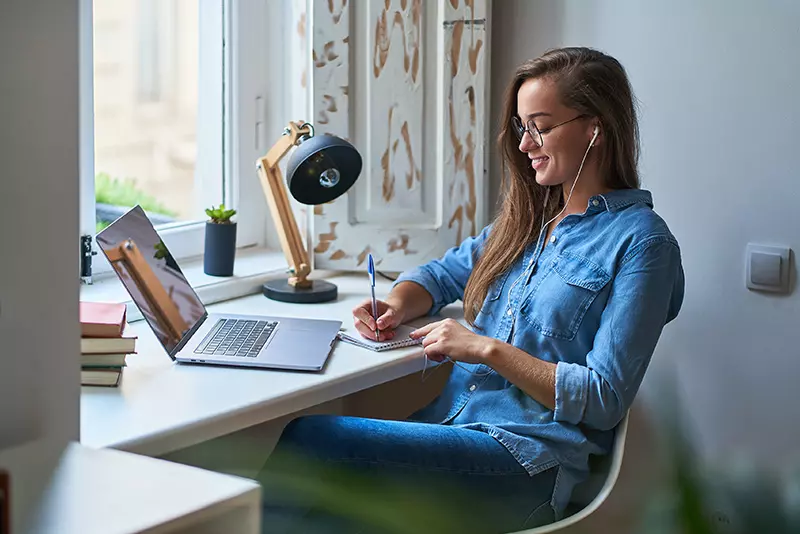 As we mentioned, The Workflow Academy allows your business to pinpoint issues in your workflow that may be damaging customer satisfaction results. All businesses aren't created equally and learning how to use Zoho will guide you to championing the unique nuances of each aspect of your business.
For example, your ideal client or customer may not need an extensive onboarding process, but setting it on autopilot can still save your company time (and time is money).
Still eager to learn more about how Zoho is an all-inclusive super machine for automation?
Read more about how Zoho SalesIQ's Customer-First Approach Can Boost Your Business here.
The Workflow Academy for B2B and B2C
We've mentioned (obsessively) how Zoho integrations can skyrocket revenue, customer satisfaction, and daily operations. The real beauty of Zoho is the compatibility it has with both B2B and B2C models.
The Workflow Academy equips your Zoho agency to know every small nuance of the platform as well as how to troubleshoot and personalize it for your unique business needs.
This means you become an expert on all things Zoho including:
Zoho Books
Zoho SalesIQ
Zoho Creator
Zoho CRM
Zoho Projects
The list goes on!
Zoho can feel like a complex beast, but really, it can be tamed! Investing in your knowledge of how your chosen CRM platform works is the best thing you can do for your business!
Read more about Zoho's magical features like Zoho Surveys and Zoho Social in our other blog post.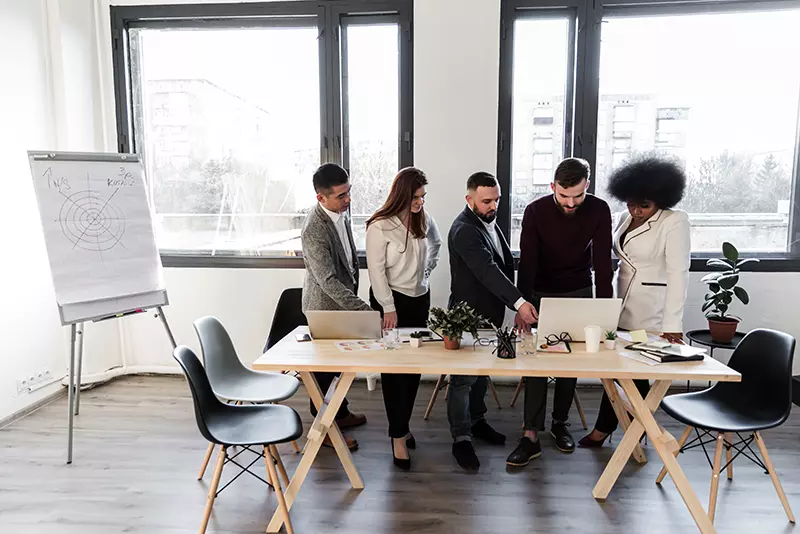 Key Takeaways
The main gist?
Your business can run as efficiently as you're willing to invest in automation.
The Workflow Academy takes you from out of the loop to expert. Don't be the person who invests in a phenomenal tool, but doesn't learn how to use it.
Eager to learn more about The Workflow Academy? Check them out here!
Jump in head-first by opening a free Zoho account.
If you have missed the email campaign train (excuse the rhyme), then you have missed a major marketing opportunity. Businesses of all types are building their email lists and utilizing this method to communicate updates, sales and so much more!
Are recipients guaranteed to open every email? Nope, but they are on that list for a reason- whether they already made a purchase or expressed some sort of interest in your company!
So, what is your business missing out on by not catering to a well-established group of subscribers? Good news: it's not too late to jump back on that email campaign train! And with some additional clarification on different types of content and campaigns, you'll be an expert in no time!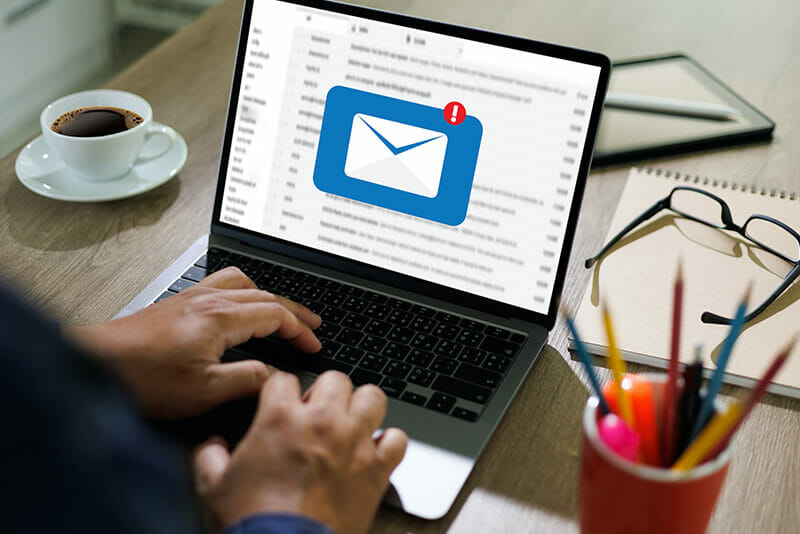 Let's Talk About Email
Did you know over 4 billion people use email on a daily basis? And by 2023, that number is only expected to grow. A majority of email users check their inboxes more than once a day and it's how they find/receive the most coupons and promotions.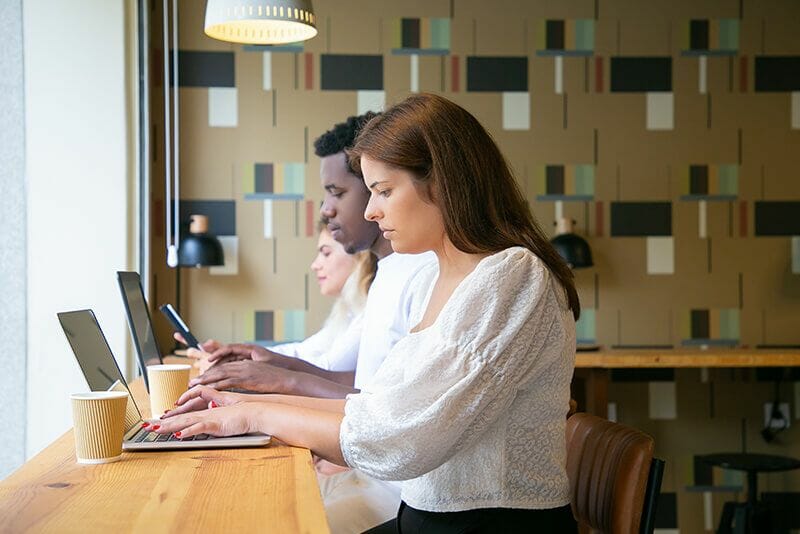 Businesses of all sizes and niches utilize email campaigns, so don't worry about your business not being a "great fit" or not being "big enough". It's all about testing out what works the best for your specific situation and catering your content for optimized results.
Speaking of content, that leads us to our next pertinent topic: types of email campaigns and the content they include!
Let's Talk About Evergreen Campaigns
In case you're wondering if you accidentally clicked the wrong link, this isn't an article about trees. However, it just so happens that the term is named after evergreen trees, considering they don't lose their leaves and remain consistent no matter the season!
When we refer to evergreen content, we are talking about content that remains relevant and relatable for a long period of time. Ideally, you can use evergreen content for years without it becoming outdated or irrelevant.
Evergreen content is great because of its 'one and done' vibe, which ends up saving you a lot of time and effort. Create some evergreen content once and use it over and over again. It's great for editing a bit and repurposing down the line (with minimal work required).
If you take this concept and apply it to email, you have (drumroll, please): an evergreen email campaign! It's consistent and does a great job with helping you build a relationship with subscribers.
Let's look at some things that would fall into this category:
Concept explanations that relate to your business
Reviews from clients/customers
Background story
Links to evergreen blog posts on your website
FAQs
Tutorials and how-to guides
Non-profit partnerships or 'give back' campaigns
What to avoid:
× Anything seasonal
× News articles
× Anything considered trendy
Let's Talk About Broadcast Campaigns
Broadcast campaigns are quite the opposite of evergreen campaigns, and (in our opinion) much easier to understand and create.
Broadcast campaigns are your standard time-sensitive emails where in a month or even a few days they can have a totally different meaning. This is probably the bulk of what appears in your inbox, especially from stores and restaurants.
Although broadcast campaigns aren't going to be part of the "one and done" mindset like evergreen campaigns, they are good ways to get attention quickly.
Some examples from this category would be:
Short-term promotions
Holiday sales or anything related to a holiday
Events and webinar promotions
Announcements (ie: product launches, newly provided services, new website)
With broadcast campaigns, you don't really need to worry about what to avoid. Honestly, the options are endless with this one! They are a great way to attract attention and create a quick uptick in revenue.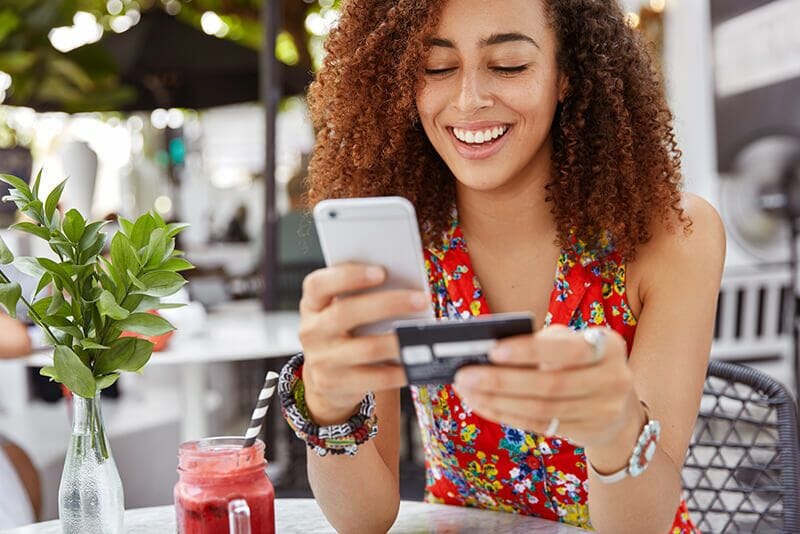 Let's Talk About Next Steps
So, all this information is great, right? But what about how to proceed? Which type of campaign is working better? How will you know what to change or what to add? How will you know if this email stuff is worth it??
That's where Zoho Campaigns comes in! You don't have to be alone in this email maze, paying for multiple services recommended by multiple blog posts. Zoho Campaigns is a one-stop shop for your email marketing needs!
Not only will it automate processes for you and cultivate a growing subscriber list, but Zoho Campaigns allows you to conduct A/B testing and determine what's actually working the best!
Test out types of content (ahem, like evergreen vs broadcast) while tailoring your intended audience.
Zoho Campaigns will track who is opening your emails and all kinds of other helpful subscriber stats that will move your email marketing right along. You no longer have to fear that you're wasting time on something that isn't working– Zoho has your back!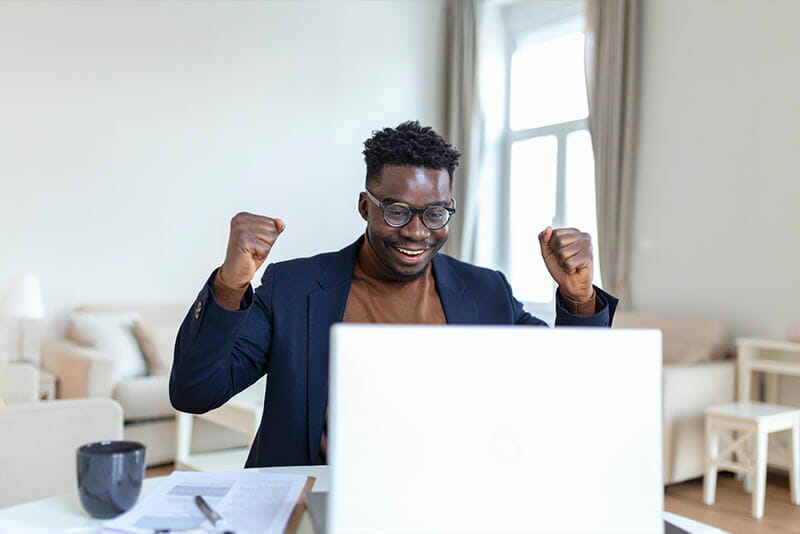 The Takeaway
Email marketing can be super effective and doesn't have to be a headache. Hopefully we have convinced you it's not that hard to get started on your email campaign journey, and that there's always resources ready to guide you out of a conundrum!
As always, we'd love to hear about what works for you and what you can do without– after all, we care about your success! Until next time, Email Explorers…
Want to find out how we can help you? Let's chat.
Emails are so fun! They are the highlight of my day! (Said no one ever).
How do I start this email? How do I sign this off? Is this too formal? Did I use too many exclamation points? Did I put in the correct address? HOW DO I LEAVE THIS EMAIL CHAIN?
Emails get a bad reputation because they are associated with work and that's just no fun! However, they have become a communication staple and most organizations can't conduct business without them.
What's our point? Maybe it's time to stop hating email! Since it's pretty much inevitable, maybe it's time to embrace the things that make email a little easier (and possibly more enjoyable)!
That's where our lovely friends at Zoho come in with another awesome product: Zoho Mail!
Let's talk about a few ways Zoho Mail can make emails a little less nightmare-ish for you and your business!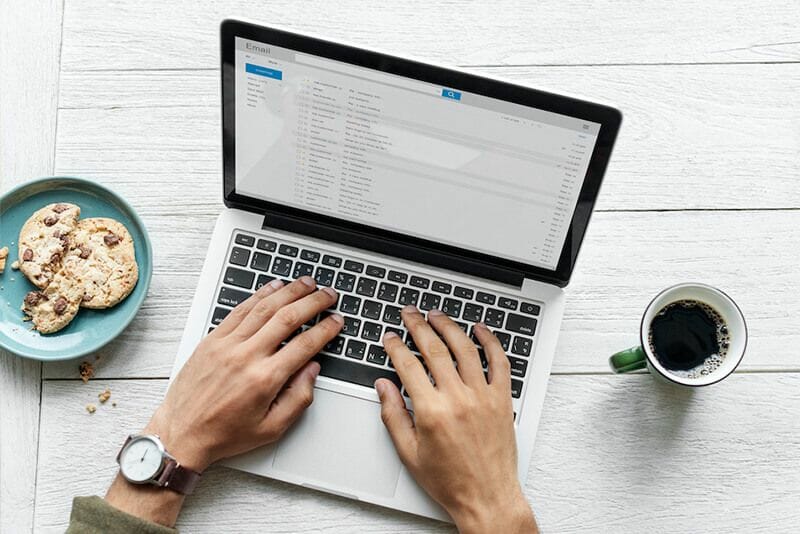 Customizable and easily controlled
If it's not customizable, it's more than likely not going to be Woggle-approved. Lucky for you, Zoho Mail has passed our rigorous tests and is more than capable of becoming an all-star email solution for your business!
Zoho Mail allows you to easily manipulate basic items like password policies and spam filters. Set conditions and create guidelines that are optimal for your business; You can even create groups with specific group moderators and assign roles all from one convenient control panel.
One of our favorite Zoho Mail features? Custom domains! Ever get tired of the same old domain options? Have no fear– you can create your own domain using your company name! For example, we could claim wizards@woggleconsulting.com as our very own! (Maybe we should seriously consider this…)
But in all seriousness, you can use a custom domain and create an email for different departments or individuals. You can also create multiple email aliases. As an added bonus, there's no limit to the number of custom domain email addresses if you choose a paid plan!
Communicate and collaborate
Streams is another great aspect of Zoho Mail that keeps things running smoothly. Communicate with the team on a shared wall, start a group chat, or even collaborate within an email. Yes, you read that right– Streams allows you to consult people about a draft before you even hit send!
Instead of a lengthy, confusing, and time-consuming email thread, Streams allows everyone to easily tag each other and collaborate in a more "social media-esque" way.
Keep things private and secure
Data privacy and security– that's what we like to see! With the topic of email, data is an especially important topic that no business should ignore!
Are they selling my data? Who can access my data? Where is data security on their priority list?
Thankfully Zoho takes this very seriously and offers an abundance of features that make your email super safe. Zoho is GDPR compliant, ensures emails are encrypted, and even includes unusual activity reports among their lengthy list of features.
You can also enjoy an ad-free mailbox (yes, ad-FREE) and rest assured that they aren't using your data to tailor ad campaigns.
Zoho makes sure none of their own employees can access your data/emails unless there's a very specific reason or help request! You can even set your own password policy and have all users reset passwords as consistently and often as you please.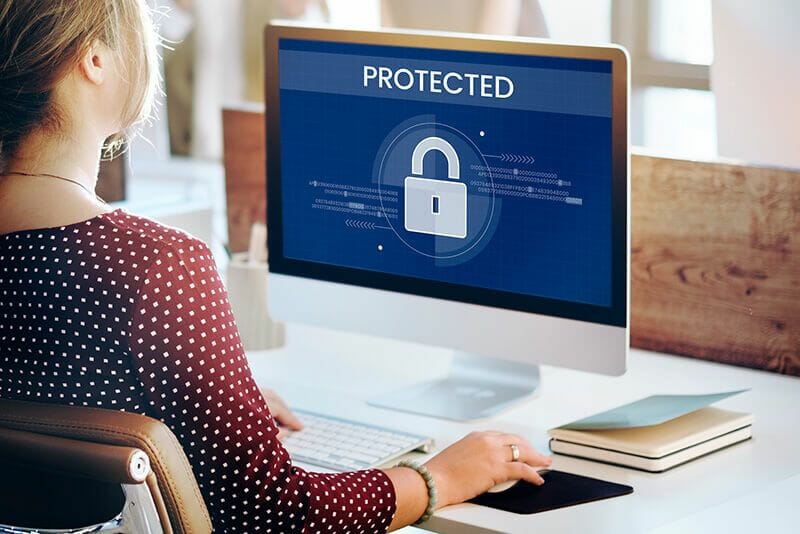 Make your life a little easier (and more organized)
Like other "suites" out there, Zoho Mail offers a handy Calendar feature along with Tasks and Notes.
Take a peek at their website for more details, but there are five incredibly convenient ways to create tasks, including directly pulling info from within an email. You also have the option to create subtasks, along with notifications and email reminders.
Worried about transitioning to an entirely new email service? Zoho Mail has you covered with their migration tools: move over your emails from any provider with Zoho's migration wizard! (We've talked a lot about wizards in this blog post…)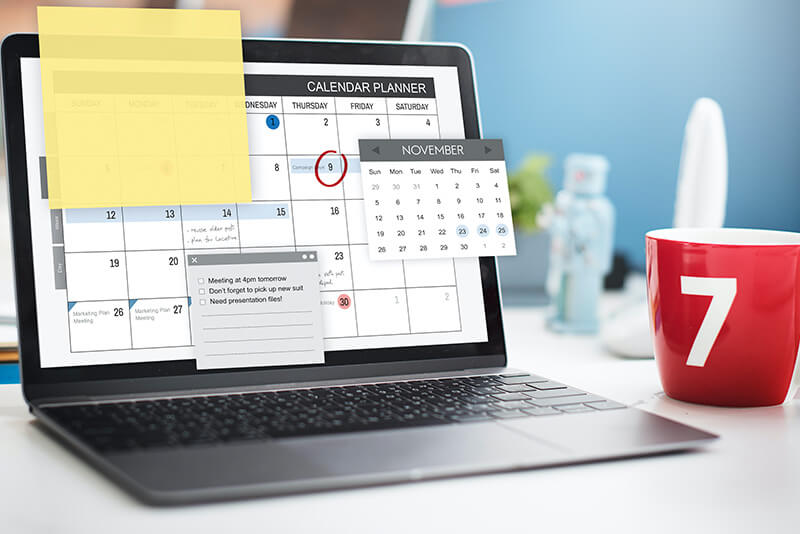 Dependably Accessible
Use the mobile apps or access everything on your desktop– whatever is most convenient. Zoho Cliq is another great option that will sync all your Zoho information on all your devices!
Have multiple tasks created within Zoho Mail along with tasks from other products? You can easily see all your Zoho tasks all on one convenient screen! Access your control panel wherever, whenever and with offline mode, you can work in Zoho Mail even when Wi-Fi's not the most dependable.
Wrapping Up
We could talk about the wonders of emails for days..
Okay, that's actually not true– but we could easily talk about the wonders of Zoho Mail for days! Like any other great Zoho product, Zoho Mail has tons of great features at a great price point. (And if your business has 5 or less employees, you can actually use Zoho Mail for free!)
Reasonably priced, accessible, and tons of awesome integration options– Zoho Mail may just be the perfect email solution for your business!
Want to find out how we can help you? Let's chat.
Here on the Woggle blog, we talk about all kinds of solutions for your business, from the uber complicated to the most basic fixes. Today we are heading back to the basics and discuss the foundation of any successful business: customer engagement.
Customer engagement includes the more sales side of operations and the customer support side as well. You can have all kinds of bells and whistles, but without an effective way to offer the right resources or help with concerns, your business will struggle.
That's why our friends at Zoho have stepped in and created SalesIQ, AKA the ultimate customer engagement solution.
Let's talk about what all Zoho SalesIQ can do for your business (and why it might be a great fit)!
Get all the insights
Zoho SalesIQ has the ability to track important information about website visitors and can distinguish hot leads from lukewarm leads. Through SalesIQ, you can figure out where visitors are spending their time, what they are clicking, and even what led them there.
Are they returning customers? How did they find your website? Did they run into problems? SalesIQ can give you insight into all these things and so much more! It can even create a contact "profile" from the information gathered. If you have a B2B model, it can identify companies that frequent your site from something as simple as an email address.
Increase your conversions by gathering pertinent insights in real-time!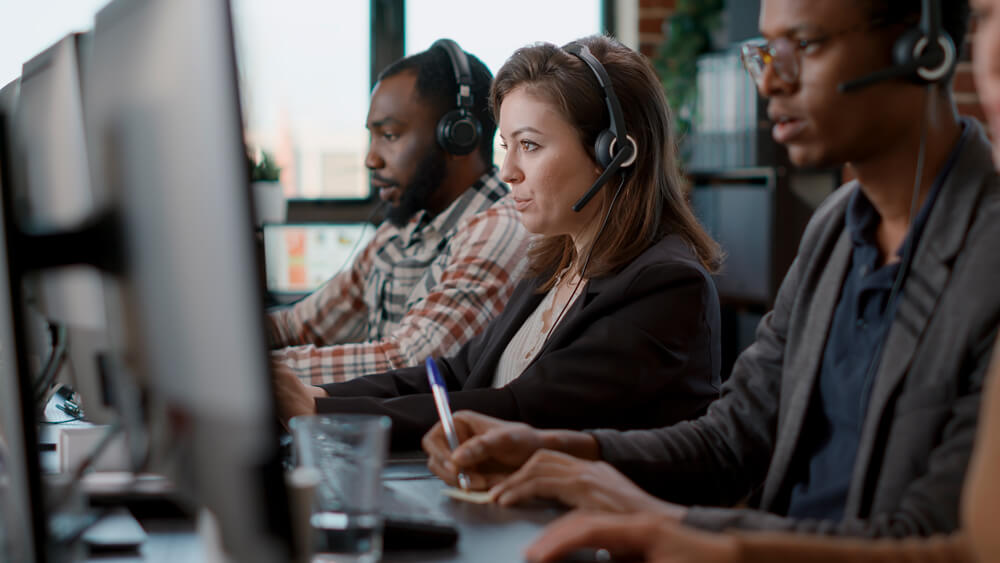 Live Chat With Your Customers
We've all been there: you visit a website and encounter a chat function with automated answers and resource links. Have you ever thought about what runs that chat? Or who set it up?
With Zoho SalesIQ, you can easily place this kind of chat function on your website! Through this application, you can speak with customers in real-time whenever you (or your agents) are available.
On top of a live chat, you have the ability to screen share (both ways) or launch voice calls when a simple chat isn't exactly doing the trick. Customers also have the option to reference previous chats, which can come in handy if they don't feel like screenshotting an entire conversation.
Plus, if you have customers contacting you through other sources like Facebook or WhatsApp, you can connect it all to SalesIQ and handle all communications from one place!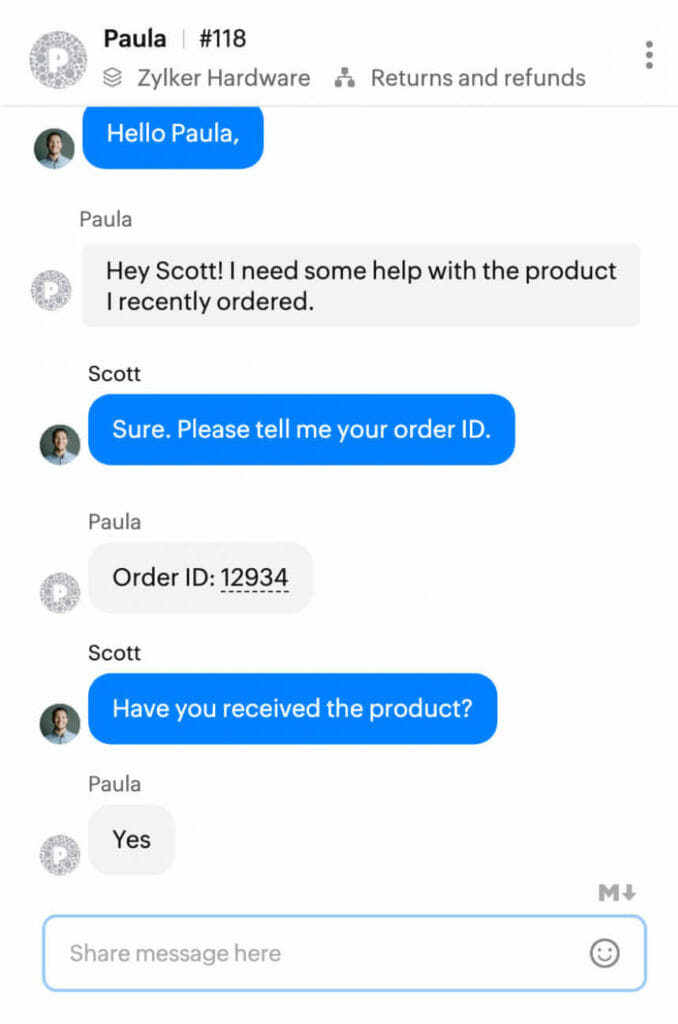 Don't Feel Pressured To Be Available 24/7
What if a customer has an issue at 2 am? Well, that's why Zoho SalesIQ created non-live chat features!
SalesIQ allows you to create your own helpful articles that can be auto-shared through chat; you can also do this with FAQs you've encountered. Set triggers within chat that will automatically give them relevant information or redirect them to another department.
Zoho SalesIQ doesn't force you to use generic templates and responses– you get to personalize the chat until you feel it's appropriately serving your customers (and making your life a little easier).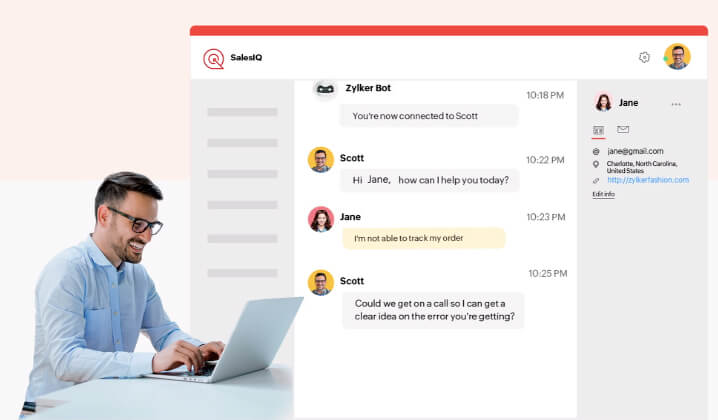 Customize To Your Heart's Content
We'll clear up one of the most asked questions: Can I customize it to my liking?
Zoho is great at offering customizable solutions, so of course, SalesIQ is no different.
Like with most Zoho products, you can seamlessly integrate Shopify, WordPress, Salesforce, and other commonly used applications that you already pay for. You can even pull information from these applications through widgets and use them while you chat with customers!
With these widgets, you can have whatever data you need at your fingertips! Yep, that's right: close out those 55 tabs in your browser– SalesIQ will let you conveniently pull up what you need inside the chat!
Control lead-creating criteria, chat triggers, and what data fields are displayed. You can even add criteria for blocking spammers and other digital nuisances.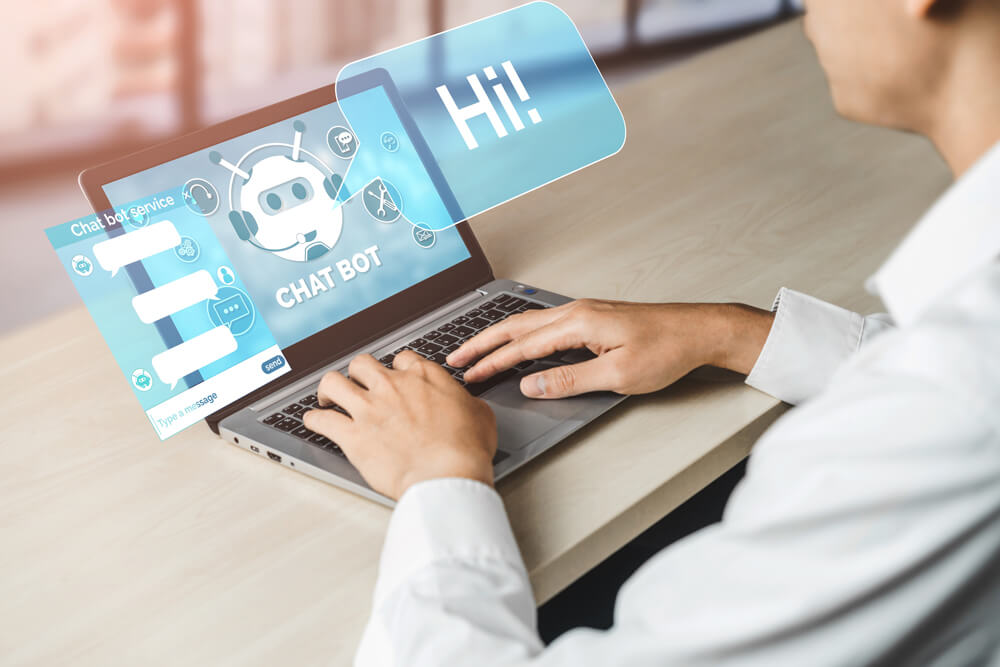 Monitor Performance
Zoho SalesIQ not only helps you set up a great customer support system, but it also helps evaluate how well it's working!
If business operations involve more than just you engaging with customers, you can easily monitor agent performance. Figure out shortcomings and areas that may need a little spruce. Monitor chats as they are happening to give real-time feedback or jump in and assist. SalesIQ even gives you the option to set up surveys for additional customer feedback.
SalesIQ Can Help No Matter Your Niche
B2B? B2C? B2…alien? Whatever your business model or product/service, SalesIQ has probably encountered something similar.
To boost your confidence on this subject, visit the Solutions tab on the SalesIQ website and read all about the variety of businesses they've assisted. Realtors, travel agencies, colleges–you name it, SalesIQ has created a tailored solution.
PS: Visiting this page even gave us ideas we never would have thought about otherwise!
Here's Your Ticket To Great Customer Engagement…
Can you perfect customer engagement? No. Can you optimize customer engagement in a day? Also no.
What can you do? You can use Zoho SalesIQ to try out some new approaches, tweak existing processes, and brainstorm fresh ideas.
At the end of the day, It's all about the customers! Utilizing SalesIQ to improve the customer experience will boost their confidence in your business and give them a reason (or several) to keep returning to you.
Want to find out how we can help you? Let's chat.
It's no mystery that the business world has moved more and more into the digital space. What is the point of having physical files and mile-long contact lists when you can access anything you need with one click? Companies like Zoho cater to this uptick in online solutions, supplying everything you could possibly need to run your business all in one place. With everything from website design to marketing support, Zoho places customizable and easy-to-use applications at your fingertips. 
As we head into the most wonderful time of the year (tax season), there's no better time to talk about a Zoho solution that makes it all a little less painful: Zoho Books. Forget about your tax specialists, endless paper receipts, and financial paperwork– Zoho Books is your one-stop-shop for all things accounting. 
We're All About Convenience 
Let's face it. We live in a world where convenience is king. Lines, leaving the house, locating our keys - it all takes up time– and whatever allows us to spend more time on the couch binging Netflix is our friend! (Just know, if you would rather spend your free time working on your business, that's okay with us, too.)
Either way, there are a lot of great things about Zoho Books. In our opinion, the best thing is that it makes running your business so much easier. All the accounting aspects are handled, from inventory to banking. Zoho Books even has a convenient time-tracking feature that you would probably just use a separate application for!
Stay organized and virtually paperless. Save time on minor details and tasks that you can otherwise spend on growing your business. Allow Zoho Books to step in and take some inconvenient and time-sucking tasks off your plate! 
Take Communication to the Next Level
Zoho Books has a client portal that allows you to keep all client communication within one application. Send quotes, discuss estimates, and exchange feedback all in one place. Not only will this be a better experience for your clients, but it will keep your business running much more efficiently.
Even better, the client portal allows your clients to manage their own experiences. They can make payments, access invoices, and change personal details all without assistance from you. Not only is this incredibly convenient for them, but it saves multiple steps and mishaps on your end of things. It sounds like a great bargain to us!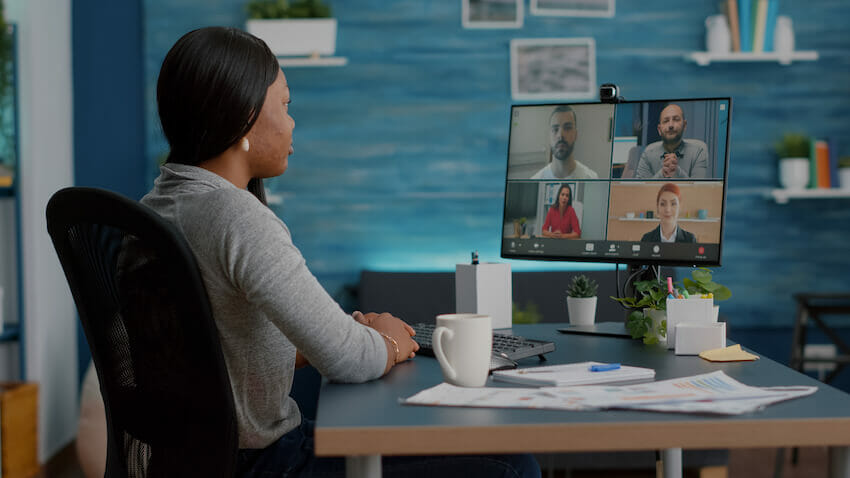 Eliminate the Stress of Tax Season
Avoid the pile of forms and the last-minute panic when you can't find the paperwork you mysteriously misplaced three months ago. 
Zoho Books makes tax season a breeze, keeping up-to-date with IRS guidelines and ensuring your sales tax liability is in check. Access all the transactional documents you could possibly need with the click of a button. 
Zoho Books even takes the work out of hiring contractors and the tax season headaches that come with it. Soon you'll be talking about a 1099 form like it was your college major! 
Before you know it, taxes will be taken care of and you might even be ready for the year ahead! 
Bigger Bang for Your Buck
As we mentioned before, Zoho Books doesn't come alone- it is a part of Zoho One, a group of over 40 other customizable applications that help out your business. On top of Zoho Books, you can utilize a wide range of marketing tools, collaboration-boosting applications, all your online business solutions and so much more. Why pay multiple other companies for the same services you can get under Zoho? 
Zoho applications and services are intended to fit your needs. They understand the importance of customized business solutions and don't force you to purchase a one-size-fits-all package. Find everything you need in one place without overpaying for things you won't use.
Not only does Zoho One supply tons of online business solutions and tools, Zoho products (like Zoho Books)  have forums and other great resources where you can easily find the answers you need. Zoho has a great customer support system ready to answer any questions you may have, but you can also easily access experiences and tips from other users! 
Have We Convinced You Yet?
If the idea of creating accounting appointments or hunting down 7-month old documents puts a knot in your stomach, Zoho Books would be an excellent solution for you. Take the stress (and endless hours of wasted time) out of your accounting tasks– we know you have a million other important things on your to-do list! Let Zoho Books do the work for you. 
Book your free initial consultation today and we can tell you more about the wonders of Zoho Books! We'd also love to help you with anything else that could make your life as a business owner just a little easier.
Chances are your work team has its fair share of conflict, problems and miscommunications. It wouldn't be "work" if everything ran smoothly all the time, now would it?
There may seem like there are way too many problems to fix. It also may seem like there are way too many solutions to choose from! 
So, what issues have been causing conflict within your team? If you can quickly answer that question, but are stumped when it comes to the right fix, it's your lucky day: We've rounded up a few common issues and the platforms that can help!
Team Issue #1: Unoptimized Processes
Smooth processes are key to serving your customers. They're also important in establishing a decent work environment. No one wants to work at a chaotic job where operations are shut down every 5 minutes for an issue that was already fixed three times last week. 
Errors happen. If your company is not working to reduce errors from a process or eliminate certain errors altogether, something is wrong. Continuous improvement is necessary for the success of your business and ultimately employee retention. 
Programs like Zoho Flow can lend some help with workflow. Flow can assist with process automation and project management. Zoho Analytics is another level of double-checking what's really going on in your business, and providing a further understanding of the problem. Allow Zoho to help you work out the kinks and keep things running smoothly.
Team Issue #2: Bad Onboarding Procedures 
Many things can go wrong when starting a new job. A few examples: A lack of thorough training, a lack of training altogether or receiving different training than your coworkers received. 
Onboarding new employees should be consistent and effective. They should be given the tools to assimilate into their new environment and contribute to the team. Additionally, it not only needs to be a smooth transition for the new employee, but a seamless transition for the whole team.
How can businesses keep the onboarding process consistent and efficient without wasting time and resources? Zoho Recruit and Zoho People are applications that assist with Human Resources processes, along with applications that provide learning/training resources. Other options can keep procedures and paperwork all in one accessible place, like Zoho Writer and Zoho Workdrive.
Team Issue #3  A Lack of Open Communication 
Communication issues should probably be at the top of the list...and in the middle..and then maybe reemphasized again later. Our point? Communication is truly the root of many problems (and solutions).  Why not invest in a platform that can make communication more effective? A solution that makes managers more reachable and updates more easily shared? 
One great platform that comes to mind when we think of communication is RingCentral. Video conferencing, team messaging, secure communication- what more could a business need? Connect with coworkers no matter the time zone. Stop disruptions in communication from continuously disrupting workflow!
Team Issue #4: Collaboration Roadblocks
Gone are the days of constant in-person meetings, presentations and brainstorming sessions. Thanks to the pandemic, it has become more crucial than ever to have plenty of online resources that enable collaboration. Working remotely should never mean you have to work alone in every aspect!
Platforms like Zoho Sprints make team projects a breeze, creating a board for everyone to easily contribute to and access. Zoho Projects is another great option where the entire team can work on an organized list of tasks and projects.
Zoho Workplace offers additional options, with applications like Zoho Writer, Zoho Cliq, and Zoho Workdrive. It's a one-stop shop where the entire team can upload information and easily share with their coworkers. 
Team Issue #5: Insufficient Resources/Improper Delegation
Sometimes there's just not enough manpower behind what needs to be done. Your team may already be stretched too thin. Don't add on to their to-do list and create more stress over an already tough project! It may be time to hire a freelancer or contractor that specializes in the task at hand. Or maybe your business would benefit from a consultancy (like us) guiding you in the right direction.
An even simpler solution? Utilize a platform that has no issue doing most of the work for you! Shopify is a great example of a platform that takes some weight off your shoulders: why put the time and money into becoming a website expert when Shopify makes it easy to jump right in to the ecommerce scene?