What's better than an epic SaaS company? A SaaS Company that prioritizes its employees and pays it forward with future generations in mind.
If you've been around here for a hot minute, you know our team at Woggle is 'Team Zoho' all the way. We can't say enough about the platform's incredible versatility and perks. We're also Zoho Partners–we're equipped to help business owners like you transition from your existing platform to Zoho. Our favorite SaaS company also does a fantastic job of looking into the future and building grassroots opportunities for talent.
Today, we're bragging about Zoho's humanitarian and environmental efforts; giving you even more reason to choose their platform for your business needs.
Zoho's Austin Headquarters (on a Farm)?
When you think of a software company, you probably don't think of employees working from a fully functioning farm. Zoho purchased 360 acres to build its new headquarters in Austin, Texas. Shortly after purchasing the land, Zoho had a change of heart. Rather than build another modern highrise headquarters, they decided to create a farm. The timing was serendipitous. Shortly after the decision to start the farm, the COVID-19 pandemic hit the United States.
The rural project has been an incredible success—giving Zoho employees solace in the outdoors, access to the fresh fruit and vegetables they have grown, and a refreshing respite from skyscrapers and city noise.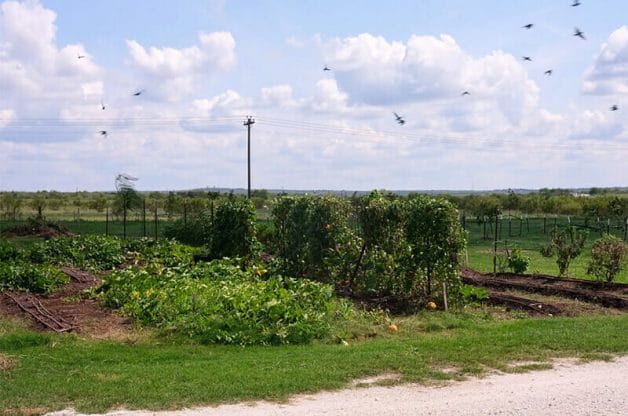 One benefit of the farm is Zoho employees are bonding through their experimental farming projects. It's an opportunity to tap into creativity and real-time problem-solving. Mickey Stanley, Zoho's head of PR content, says, "The metaphor of the farm is to break down the silos, right? So we couldn't just compartmentalize all the different produce. What we want is this kind of loose learning process where everything isn't overly manicured and everything is kind of growing into each other. And we see what works."
Stanley shares another perk of Zoho's unconventional farming workplace—the interpersonal interactions between the team members, "You go into an office and it's the same people in your section of the office that you see and talk to. But here, somebody could walk in and sit down next to you and be doing their work and you have the ability to make a new relationship with a coworker that you wouldn't otherwise."
We don't know about you, but walking out to pick fresh fruit on a lunch break sounds amazing. That has been amazing for morale! Zoho's farm isn't its only innovative idea. As a matter of fact, Zoho is paying it forward in numerous incredible ways!
Zoho's Humanitarian Efforts
Zoho has taken its streak of genius and run with it, creating rural offices at other Zoho locations; including India, Mexico, Japan, and Canada. Zoho's vision with these rural offices is to make opportunities accessible to talented individuals who may not otherwise be candidates for jobs in tech due to their location. Zoho decided to infiltrate the areas where the talent lies—setting up shop in rural villages and employing locals.
Zoho's humanitarian efforts bring opportunities to people in small towns and villages. The additional benefit is that the current workforce issues of inflation, long commutes, and general life/work imbalances are alleviated.
The beauty of Zoho is its focus on creating a better world for its users and employees. Their initiatives don't stop at the farm outside of Austin, Texas, or creating opportunities in rural villages around the world. The SaaS company also provides subscription relief to businesses impacted by natural disasters. Their eco-friendly reach is also impressive—they build solar farms that offset our carbon footprint.
Before You Go
Zoho is impressive in its own right when it comes to its technology and incredible offers for businesses like Woggle Consulting. Add the humanitarian and eco-conscious efforts and it's a company that's worth supporting.
Book a free consultation to chat about Zoho. Our friendly team is happy to help answer your questions!
Get to know Zoho's incredible assets by reading more of our blog posts: