We have been bringing you loads of social media tips and tricks lately. Your business will inevitably use at least one social media platform to increase engagement and leads. Our partners over at Lucent Creative, a woman-owned digital marketing agency, have kindly taught our team here at Woggle a lot about social media best practices. Now, we're combining forces to highlight one of our favorite social media management tools—Zoho Social. Let's explode your social media reach!
It's no secret that here at Woggle, we're a bit obsessed with Zoho! We are Zoho partners after all. Once you see the perks of Zoho Social, you'll want to jump into the deep end, too. 
Bonus Reading: Are you just hearing about Zoho? Take a look through our blog archives to learn all about Zoho's products. We recommend reading Why Zoho? and Zoho CRM isn't just for B2B, it's also great for B2C to get started.
What is Zoho Social?
Like other social media management software, Zoho Social allows businesses and agencies of all shapes and sizes to schedule social media content across multiple channels. It also allows your team to view analytics and gain insight into customer behavior, which is the secret sauce to perfecting your social media reach.
Zoho Social gives you what other platforms deliver when it comes to scheduling ability and analytics, but it provides more value than its competitors while costing less. Let's take a deep dive.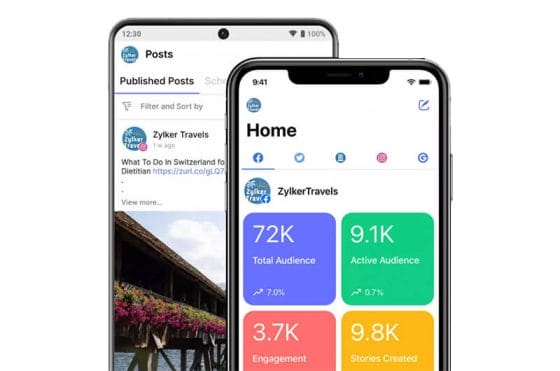 An Overview of Zoho Social Features
Zoho Social has grit and some big names singing its praises. You can see that for yourself below.

Not too shabby, right?
Here's what Zoho Social delivers with a radiant A+:
✔️ Unlimited posts- This is huge since most platforms have strict limits.
✔️ Deep-dive analytics are included- See how your followers are (or aren't) engaging with your brand. Then, adjust accordingly.
✔️ Time-predictive posting- the platform suggests the best times to post according to when your ideal audience is active on social.
✔️ Real-time monitoring- don't miss a comment or mention so you can stay on top of engaging with your audience and generate leads.
While it's true that these features are common among social media platforms, the truth is you'll pay less for these awe-inspiring features with Zoho Social than with competitors. We've done the math for you.
How Zoho Social Compares to Other Social Media Management Platforms
You may have heard of some social media management platforms like Hootsuite, Buffer, MeetEdgar, and Sprout Social. These platforms vary widely in price and features. For example, let's look closely at the overall pricing and how many social media channels are included in the basic packages.
Comparing Zoho Social Base Plan with Competitor Base Plans
| | | | |
| --- | --- | --- | --- |
| SMM Platform | # of Channels | Users | Pricing |
| HootSuite *Professional Plan | 10 | 1 | $99/mo |
| Buffer *Essentials Plan | 1 | 1 | $6/mo per channel |
| Meet Edgar*Eddie Plan | 5 | 20 | $29.99/mo |
| Sprout Social*Standard | 5 | 1 | $249/mo |
| Zoho Social*Standard | 9 | 1 | $10/mo |
Zoho Social is generous in its allowance of channels (and unlimited posts). Thankfully, many of these social media management tools offer free trials so you can try them before you commit. Test Zoho Social with their 15-day free trial here.
Our team and clients are continuously impressed with Zoho Social's in-depth analytics. Having a robust analytics report is the magic of a successful social media strategy. You can make every post "count" when you're seeing engagement from your efforts.
Use this mini checklist as you shop for a social media management platform:
Ensure the platform has enough user seats for your team
Does the social media management tool allow you to post on the platforms of your choice?
Can you easily edit photos inside the platform?
Does the platform suggest posting times and other helpful tips?
Can your team view analytics at no extra cost?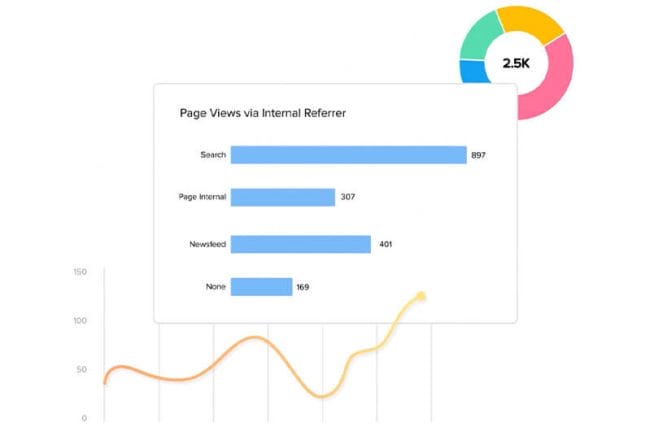 Pro Tip: If you're still building a social media strategy, we recommend starting with a low-tier plan to best gauge what your marketing team will need and use. For more social media tips, check out this blog post.
Before You Go
Please note that platform comparison information may have changed since the publication of this post. We do our best to provide you with the most updated information but encourage you to check the websites for real-time price and feature comparisons.
Head to Zoho Social's website for the full list of impressive perks. Zoho Social is especially effective when you're in sync with Zoho's other offerings. You can operate an entire business on Zoho!
If you're not a Zoho user yet and want to book a free consultation with our team, simply fill out this form. A member of our awesome team will be in touch shortly.
Need a hand with social media reach, engagement and content? Reach out to our partners at  Lucent Creative and tell them Woggle sent you.