Let's optimize your CRM for pumpkin spice latte season in 6 easy steps. You read that right. We figure if there can be pumpkin spice everything (including toilet paper!) then we can #PSL your business operations.
Systems can be boring—like lukewarm gas station black coffee in a styrofoam cup boring–but your business can spice things up with customization. Even #PSL season allows for personalization with at least nine versions of milk. However, we hate to break it to you—Starbucks will forever spell your name wrong. Let's have a bit of fun ('tis the season) and grab eight ingredients to optimize your CRM.
We'll wait here while you grab your #PSL.
Zoho CRM: Pumpkin
Like any #PSL, we're going to start with the main ingredient—pumpkin, or in this case Zoho CRM. Starting with the primary foundation will equip your business to build its backend from the ground up. Woggle is, no doubt, a fan of Zoho CRM. Its robust capabilities for customization and integrations are beyond impressive. It's every bit of an all-in-one client management system. 
Zoho's marketing team says it best.
With Zoho CRM you can optimize your CRM, harness the power of omni-channel presence, segmentation, KPIs, predictive intelligence, and more to deliver personalized experiences that breed customer loyalty.
Zoho CRM allows your team to automate:
Workflows
Processes
Campaigns
Customer journeys
…and so much more!
Imagine the time and resources your team could save with most of your daily operations on total automation! Zoho CRM equips teams to focus more energy on the people they serve rather than the boring, mundane aspects of business. Even the most epic CRM is only as good as your efforts to customize it.
Just like a hot cup of plain pumpkin isn't too great, Zoho One isn't as useful without a little spice!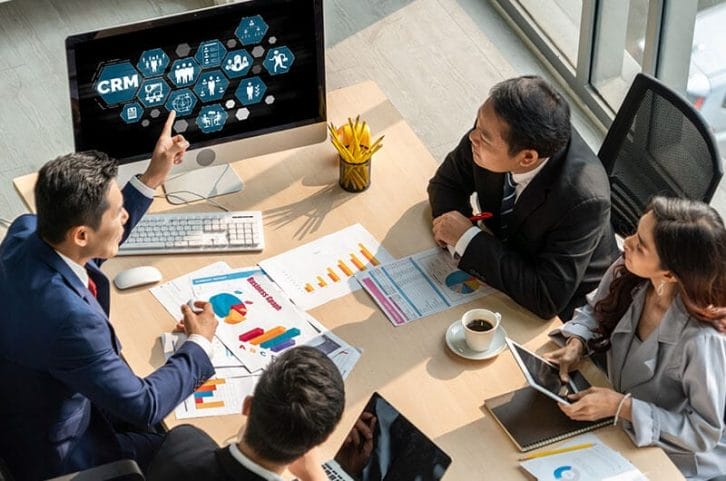 Add Your Own Fields: Cinnamon
What's a #PSL without some cinnamon? Gross.
Zoho One puts you in the driver's seat with complete autonomy on customization. One of the ways to optimize your CRM is by adding a dash of cinnamon (aka customized fields). Take DIY to the next level for your team by adding fully personalized fields for your business needs. 
You can even build custom mobile apps to run your business beyond the desktop! Drag and drop design makes customizing fields fast and easy. Get on board with a platform that grows with your business—Zoho's CRM is easily adaptable and customizable at every stage of your journey.
Customize Workflows: Nutmeg
Is your workflow…well, flowing?
A pinch of nutmeg in a #PSL makes a huge difference.
Enter Zoho CRM's workflows.
Here are just a few of the perks your team can glean from Zoho's workflow perks:
❌Avoid ❌
Duplicated tasks
Bottle-Necked projects
Missed project deadlines
Miscommunication
Neglecting to follow up with clients in prime time
✅ Gain ✅
Necessary info at a glance
Important reminders
User-friendly all-in-one platform
Better time management
Seamless follow-up
Effortless collaboration
Custom Functions: Cloves
Customization is the name of the game. Zoho CRM allows your team to create your platform on how you work. That means you personalize everything the way you need it and ditch anything that doesn't serve your team in daily operations. Hear it straight from Zoho's developers:
Zoho's configurations and customizations help you adapt your CRM to the way your team works. Control how information passes through your pipeline with custom modules, fields, and buttons. Optimize your CRM by picking and choosing the features you need most with native and third-party apps available through the Zoho Marketplace.
Customize what matters most:
Create custom workflows
Custom fields
Custom modules
Client Scripts: Ginger
Now, this is a winning feature! Zoho allows your team to develop custom scripts to automate the routine CRM tasks that your organization performs most often and help your sales team focus on their most critical tasks. Client scripts are the ginger to our latte—something you didn't think you needed, but it makes all the difference. This "pinch of ginger" allows your team to cater to client needs from the get-go.
Even better, your team doesn't risk data security!
Canvas Views: Allspice
Design the CRM of your dreams with Canvas Studio! Zoho goes the extra mile with its fully customizable design options. Ditch a boring database and adopt a clean, easy-to-use platform that engages users and equips you to stay organized. Design experience isn't necessary! In fact, the drag-and-drop studio makes customization easy!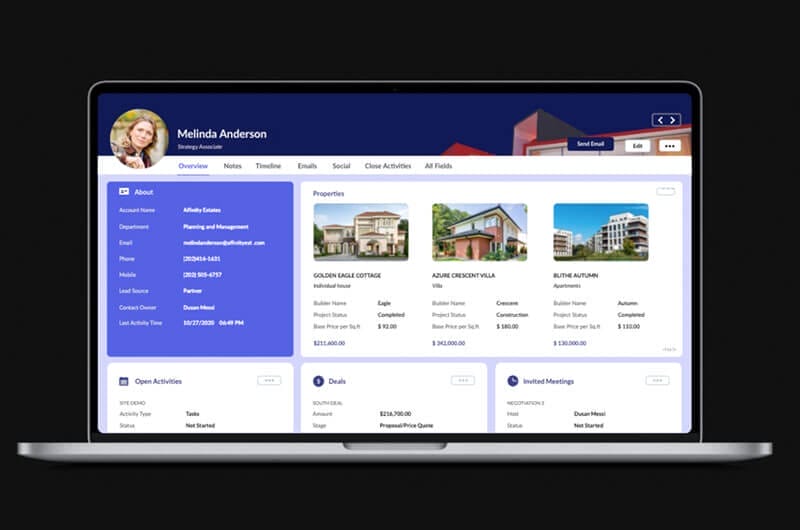 View design examples here. 
Before You Go Optimize Your CRM
Thanks "a latte" for reading this post. We're excited to help you explore the capabilities of how you can easily optimize your CRM with Zoho CRM. Get in touch with our team to schedule a free consultation.
Is tech enabling your business or getting in the way? There are so many SaaS and CRM platforms to choose from. On top of that, there are email and SMS marketing, social media, HR, and payroll platforms. All of these business tools are necessary to generate leads, see a healthy ROI, and build a business for sustainability. What is in your tech stack—the sum of all the platforms your business uses in daily operations? The most important aspect of any Tech Stack is ensuring your chosen platforms communicate with each other. 
ICE-ing, a fancy little acronym will help your team leverage your tech platforms for premium efficiency.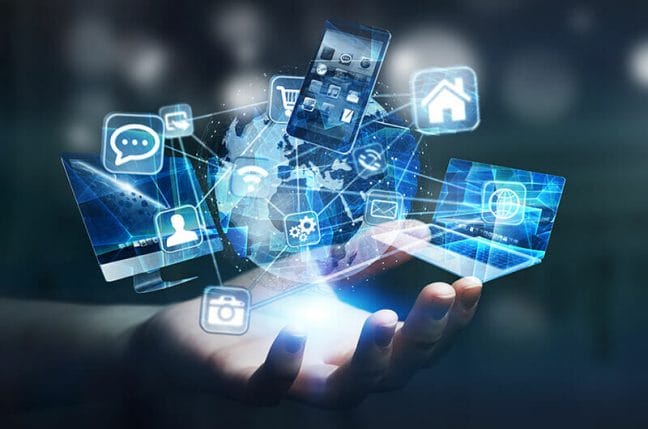 What is ICE?
When we talk about ICE-ing your tech stack, we're focusing on Integration, Customization, and Expandability.
We've provided a "premium efficiency" handy checklist for you below.
Let's break that down (ICE, ICE Baby….no?).
Integration
Here are the main questions to answer when it comes to your tech stack and integration.
Are your platforms in sync with each other?
Do your apps have built-in integration capabilities?
Do you use a third-party integration platform?
How much money is the lack of integration costing you?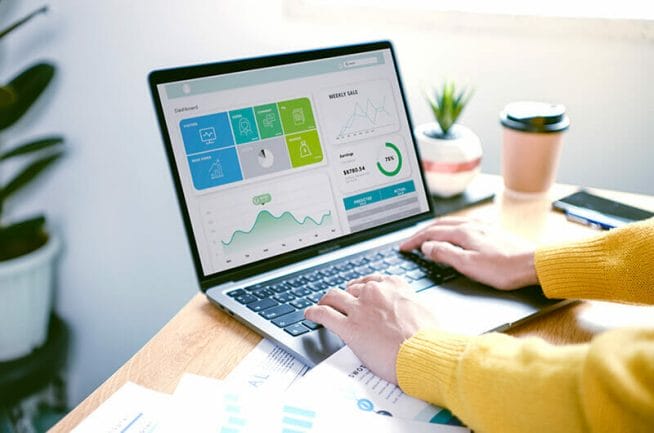 The Problem
The issue with the lack of integration isn't a straightforward simple answer. In fact, the absence of a solid integration plan is costing your business money, your team time, and potential efficiency.
The Solution
Ensure your company is running smoothly with ultimate integration and sustainable efficiency with a platform that can do multiple jobs. For example, view your tech as a new hire in the company. You likely wouldn't hire one HR Director to conduct interviews and another to conduct paperwork for new hires. The same person would cover both responsibilities. Spreading your tech stack thin without integration in mind is like hiring for multiple positions when you don't need to.
Zoho is a SaaS company that covers a lot of ground! Zoho Flow allows you to tie your apps together with a nice, efficient bow.  The platform is phenomenal! Integrate your other daily operations apps like Slack, Gmail, Asana, Creator, and, of course, other Zoho applications!
Customization
So, what should you keep in mind when it comes to customization? We've got the info!:
Are your platforms customizable to your business's daily operation needs?
What is customization costing you? Have you shopped around for the best fit?
Do your platforms take your team's needs into consideration (i.e. customization by team members)?
Are you utilizing the customization tools to their utmost advantage?
The Problem
Every business is different, meaning your business and team need customizable options within SaaS platforms. Each department needs a customizable workflow, communication, etc. Unfortunately, many software companies are a "one size fits all" and charge extra for each customization. It's vital to search for the most cost-effective and efficient option for your team's needs.
The Solution
Create workflows, reminders, and store vital client information in a way that works best for your team. Zoho CRM makes teamwork easy with its customization and interface. Its state-of-the-art customization options make running a small team of five to a large team of 100+ easier. One of the best aspects of Zoho CRM is the pricing—no hidden fees or costs for customizing the platform to be the way you need it.
Expandability
Every business operates to grow and expand. Is your current tech stack up for the job?
Do your current platforms free up time to connect more with customers?
Can you currently track leads easily?
Are your sales team members all on the same page?
Can your platform give you insight into real-time data for follow-up and nurturing warm leads?
The Problem
Dropping the ball with leads is easy to do when your tech stack isn't ICE'd. To expand your business, your team needs to be on top of their game when it comes to leads and building rapport with potential customers.
The Solution
Zoho CRM is the perfect example of a user-friendly and customizable platform. Build strong customer relationships and team morale with Zoho CRM. It does the heavy lifting while your team focuses on what matters most—customers. Create triggered workflows where you never forget to follow up on what's most important—a customer's questions or concerns. Zoho CRM makes it easy to scale your business on (near) autopilot.
Before You Go
As official Zoho partners, our Zoho support team is next-level. We can help you with any hiccups, if any, your team encounters. We also provide Zoho integration services to keep your business up and running while we work behind the scenes.
Book your free consultation today!
What's better than an epic SaaS company? A SaaS Company that prioritizes its employees and pays it forward with future generations in mind.
If you've been around here for a hot minute, you know our team at Woggle is 'Team Zoho' all the way. We can't say enough about the platform's incredible versatility and perks. We're also Zoho Partners–we're equipped to help business owners like you transition from your existing platform to Zoho. Our favorite SaaS company also does a fantastic job of looking into the future and building grassroots opportunities for talent.
Today, we're bragging about Zoho's humanitarian and environmental efforts; giving you even more reason to choose their platform for your business needs.
Zoho's Austin Headquarters (on a Farm)?
When you think of a software company, you probably don't think of employees working from a fully functioning farm. Zoho purchased 360 acres to build its new headquarters in Austin, Texas. Shortly after purchasing the land, Zoho had a change of heart. Rather than build another modern highrise headquarters, they decided to create a farm. The timing was serendipitous. Shortly after the decision to start the farm, the COVID-19 pandemic hit the United States.
The rural project has been an incredible success—giving Zoho employees solace in the outdoors, access to the fresh fruit and vegetables they have grown, and a refreshing respite from skyscrapers and city noise.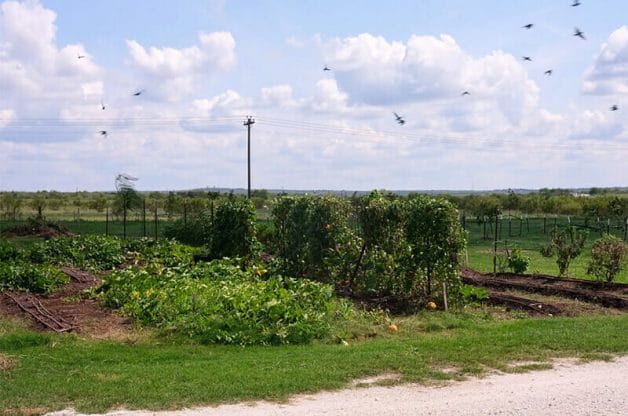 One benefit of the farm is Zoho employees are bonding through their experimental farming projects. It's an opportunity to tap into creativity and real-time problem-solving. Mickey Stanley, Zoho's head of PR content, says, "The metaphor of the farm is to break down the silos, right? So we couldn't just compartmentalize all the different produce. What we want is this kind of loose learning process where everything isn't overly manicured and everything is kind of growing into each other. And we see what works."
Stanley shares another perk of Zoho's unconventional farming workplace—the interpersonal interactions between the team members, "You go into an office and it's the same people in your section of the office that you see and talk to. But here, somebody could walk in and sit down next to you and be doing their work and you have the ability to make a new relationship with a coworker that you wouldn't otherwise."
We don't know about you, but walking out to pick fresh fruit on a lunch break sounds amazing. That has been amazing for morale! Zoho's farm isn't its only innovative idea. As a matter of fact, Zoho is paying it forward in numerous incredible ways!
Zoho's Humanitarian Efforts
Zoho has taken its streak of genius and run with it, creating rural offices at other Zoho locations; including India, Mexico, Japan, and Canada. Zoho's vision with these rural offices is to make opportunities accessible to talented individuals who may not otherwise be candidates for jobs in tech due to their location. Zoho decided to infiltrate the areas where the talent lies—setting up shop in rural villages and employing locals.
Zoho's humanitarian efforts bring opportunities to people in small towns and villages. The additional benefit is that the current workforce issues of inflation, long commutes, and general life/work imbalances are alleviated.
The beauty of Zoho is its focus on creating a better world for its users and employees. Their initiatives don't stop at the farm outside of Austin, Texas, or creating opportunities in rural villages around the world. The SaaS company also provides subscription relief to businesses impacted by natural disasters. Their eco-friendly reach is also impressive—they build solar farms that offset our carbon footprint.
Before You Go
Zoho is impressive in its own right when it comes to its technology and incredible offers for businesses like Woggle Consulting. Add the humanitarian and eco-conscious efforts and it's a company that's worth supporting.
Book a free consultation to chat about Zoho. Our friendly team is happy to help answer your questions!
Get to know Zoho's incredible assets by reading more of our blog posts:
We have been bringing you loads of social media tips and tricks lately. Your business will inevitably use at least one social media platform to increase engagement and leads. Our partners over at Lucent Creative, a woman-owned digital marketing agency, have kindly taught our team here at Woggle a lot about social media best practices. Now, we're combining forces to highlight one of our favorite social media management tools—Zoho Social. Let's explode your social media reach!
It's no secret that here at Woggle, we're a bit obsessed with Zoho! We are Zoho partners after all. Once you see the perks of Zoho Social, you'll want to jump into the deep end, too. 
Bonus Reading: Are you just hearing about Zoho? Take a look through our blog archives to learn all about Zoho's products. We recommend reading Why Zoho? and Zoho CRM isn't just for B2B, it's also great for B2C to get started.
What is Zoho Social?
Like other social media management software, Zoho Social allows businesses and agencies of all shapes and sizes to schedule social media content across multiple channels. It also allows your team to view analytics and gain insight into customer behavior, which is the secret sauce to perfecting your social media reach.
Zoho Social gives you what other platforms deliver when it comes to scheduling ability and analytics, but it provides more value than its competitors while costing less. Let's take a deep dive.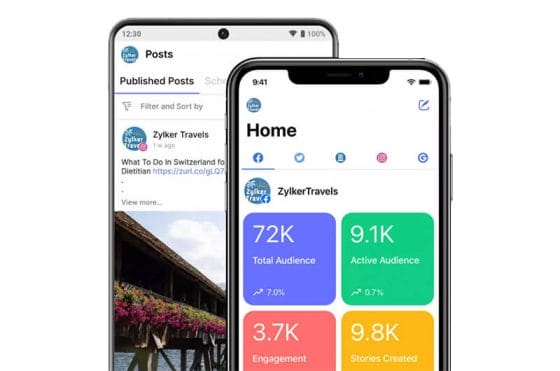 An Overview of Zoho Social Features
Zoho Social has grit and some big names singing its praises. You can see that for yourself below.

Not too shabby, right?
Here's what Zoho Social delivers with a radiant A+:
✔️ Unlimited posts- This is huge since most platforms have strict limits.
✔️ Deep-dive analytics are included- See how your followers are (or aren't) engaging with your brand. Then, adjust accordingly.
✔️ Time-predictive posting- the platform suggests the best times to post according to when your ideal audience is active on social.
✔️ Real-time monitoring- don't miss a comment or mention so you can stay on top of engaging with your audience and generate leads.
While it's true that these features are common among social media platforms, the truth is you'll pay less for these awe-inspiring features with Zoho Social than with competitors. We've done the math for you.
How Zoho Social Compares to Other Social Media Management Platforms
You may have heard of some social media management platforms like Hootsuite, Buffer, MeetEdgar, and Sprout Social. These platforms vary widely in price and features. For example, let's look closely at the overall pricing and how many social media channels are included in the basic packages.
Comparing Zoho Social Base Plan with Competitor Base Plans
| | | | |
| --- | --- | --- | --- |
| SMM Platform | # of Channels | Users | Pricing |
| HootSuite *Professional Plan | 10 | 1 | $99/mo |
| Buffer *Essentials Plan | 1 | 1 | $6/mo per channel |
| Meet Edgar*Eddie Plan | 5 | 20 | $29.99/mo |
| Sprout Social*Standard | 5 | 1 | $249/mo |
| Zoho Social*Standard | 9 | 1 | $10/mo |
Zoho Social is generous in its allowance of channels (and unlimited posts). Thankfully, many of these social media management tools offer free trials so you can try them before you commit. Test Zoho Social with their 15-day free trial here.
Our team and clients are continuously impressed with Zoho Social's in-depth analytics. Having a robust analytics report is the magic of a successful social media strategy. You can make every post "count" when you're seeing engagement from your efforts.
Use this mini checklist as you shop for a social media management platform:
Ensure the platform has enough user seats for your team
Does the social media management tool allow you to post on the platforms of your choice?
Can you easily edit photos inside the platform?
Does the platform suggest posting times and other helpful tips?
Can your team view analytics at no extra cost?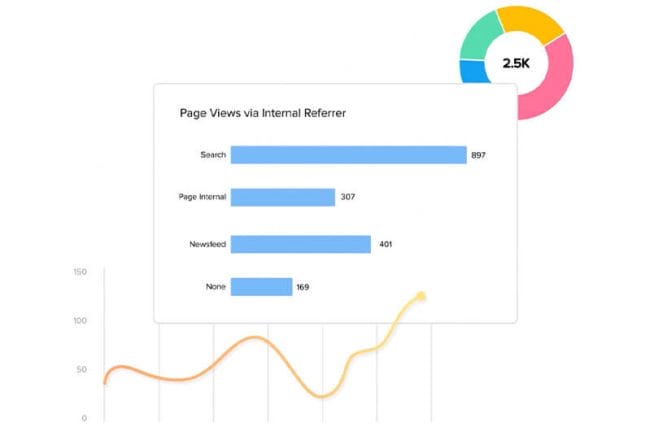 Pro Tip: If you're still building a social media strategy, we recommend starting with a low-tier plan to best gauge what your marketing team will need and use. For more social media tips, check out this blog post.
Before You Go
Please note that platform comparison information may have changed since the publication of this post. We do our best to provide you with the most updated information but encourage you to check the websites for real-time price and feature comparisons.
Head to Zoho Social's website for the full list of impressive perks. Zoho Social is especially effective when you're in sync with Zoho's other offerings. You can operate an entire business on Zoho!
If you're not a Zoho user yet and want to book a free consultation with our team, simply fill out this form. A member of our awesome team will be in touch shortly.
Need a hand with social media reach, engagement and content? Reach out to our partners at  Lucent Creative and tell them Woggle sent you. 
Are you reaching your ideal client on social media? An increase in followers doesn't always mean they're engaged with your brand. Small businesses can't ensure a captive audience when readers have an incredibly short attention span. Short of a "please silence your cell phones" message at the movie theater, your marketing team has to engage your audience through intentional content. (Hey, too bad we can't pop some popcorn for you as you dig through this blog post.)
So, how do you make the most of your social media marketing efforts? We touched on the basics in 5 Ways to Get Strategic in Your Business Marketing, but today we're going to touch on the importance of engaging your audience. 
Know Your Audience
"I obviously know my audience.", you say.
We trust you but hear us out.
We're talking about the difference between knowing your audience and knowing what makes them tick, what their values are, and how you can build trust with them.
Let's say you run a property management firm for income property owners.
Knowing you're marketing to middle-aged people in the suburbs is a great start. Dig deeper and you realize that sure, your services are great for a middle-aged audience in the suburbs, but more specifically—those who have an average income of $150k, are close to retirement and want a done-for-them property management company for when they turn their home into a vacation rental and relocate.
Do you see the difference?
It pays to know your ideal client.
When you zero in on your target audience, you gain the ability to:
Build rapport
Anticipate their needs
Cater to their concerns
Create a successful marketing strategy across your platforms of influence
Purchase ads that hit home the first time
Pro tip: You may have a few ideal clients. Create a profile for each ideal client so you're able to hone in on each specified audience in your marketing campaign.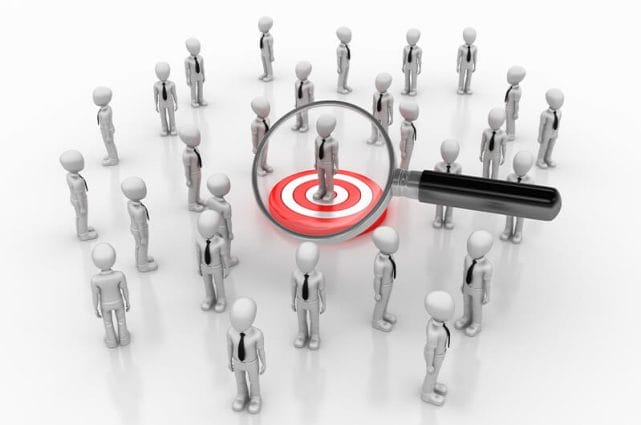 Create an Engagement Strategy
Solidifying your target audience is half the battle. Now, it's time to lead with customer service best practices. Engaging with your audience is vital for the success of your business. Even in a high-paced world, we all value quality time. We use the word "strategy" loosely here. The main idea is to create a culture of consistent engagement within your marketing strategy.
Here are some standout examples of excellent engagement across social media.
Dove
What's to love?
Dove's team commented on a suggestion for a new product scent. In less than 30 seconds, they validated their follower's idea and said they'd pass it along. It's an amazing example of hearing your out audiences and showing that they matter.
San Diego Tourism
What's to love?
A follower commented that the post didn't specify the exact location and Visit San Diego took time to clarify. This simple point of engagement not only helped the commenter but anyone else that may have had the same question. Seems simple, right? Engaging with your audience clears up any misunderstandings.
Healthy Mama Kris
What's to love?
Kris replies to a comment saying the salad dressing recipe will be available in a few days. Engaging your audience creates opportunities to build anticipation for a future offer. Taking time to do this doesn't just build trust with your followers, but gives them a reason to keep checking in.
Building a Social Media Engagement Strategy
Engagement with your audience is essential to building rapport with them, but how do you engage? Is it really as simple as replying to comments on social media? The short answer is yes!
We've put together some pro tips with our partners over at Lucent Creative.
Visual Engagement Tips
Ensure your photos and videos are clear
If you're using reels, include trending audio your audience will recognize
Create an engaging brand identity (logo, colors, fonts, etc.)
Videos get the most engagement in the comments. Prioritize video over static posts
Copy Engagement Tips
Write clear, concise copy in your captions
Speak directly to your ideal audience
Tag partners and collaborators to show your appreciation and increase the chances of your content being seen
PR Tips
Answer questions your followers have in a timely manner
Thank followers for their input
Handle complaints in the DMs
Create a culture of trust by welcoming feedback and addressing any concerns publicly as a brand
Bonus Tips
Don't neglect your audience's questions and input on social media
Consider fun ways of engaging your audience like going LIVE with FAQs
Keep your audience engaged with giveaways, freebies, etc.
Don't commit too much time to engagement—an hour max a day is plenty of time for many businesses
Wrapping Up
We hope you're learning from our social media series. Our partners at Lucent Creative are marketing gurus and we appreciate their help with all things marketing! If you haven't already, go check out other posts in this series. 
Chances are you've heard of ChatGPT—the AI superpower that has turned the marketing world on its head.
There have been a lot of debates surrounding ChatGPT, mainly if the AI platform will make the jobs of creative marketers obsolete. We addressed the hot topic in our article What You Need to Know About ChatGPT. Our overall impression of AI in marketing is this—embrace the new technology without putting all of your eggs in one basket. The gist? ChatGPT is a great tool to use in tandem with a marketing team (read: your business still needs a human touch).
We interviewed our partners at Lucent Creative, a woman-owned digital marketing agency, to get their input on ChatGPT. Their advice was so helpful for businesses of any size and niche that we know you'll find at least one of these tips a game-changer. Let's jump in!
Generate Blog Topics with ChatGPT
"Think of ChatGPT as an acquaintance to bounce ideas off of. It's an objective tool to get your team out of a creative rut.", says Nikki, a content writer with Lucent Creative.
She walked us through a quick fake scenario to showcase how she uses ChatGPT when coming up with blog topics.
Here's a rundown of the "business" and its content needs:
Business:
Books + Wine Time
Niche:
Brick-and-mortar shop in Washington with eCommerce capabilities
Content needs:
Create hype for their upcoming holiday promotion (a monthly book subscription service)
Engage followers with reading lists
Promote partnerships with local wineries
Nikki: "Taking all of this information about the client into account before using ChatGPT is vital. It's going to provide the necessary parameters you need the platform to stick to."
Nikki asks ChatGPT to 'Generate 10 blog topics on the perks of a monthly book subscription'. Within three seconds, the platform has given us ideas to pick from!
Nikki: "Alright, now it's time to dig deeper into your business' needs and get more specific. For example, let's say that the book subscription promotion will only begin with the fantasy genre. That eliminates ChatGPT's first recommendation off of the list. Digging deeper, we may realize that the time-saving element of #9 on the list is most important to our target audience. Then, we may choose to create a mini-series of blog posts on the time-saving perk alone. ChatGPT."
Then, Nikki showed us how ChatGPT can assist in blog pitches for the reading list portion of our scenario.
Nikki: "Here, I went broad with the demographic requirements. The blog topics are diverse enough to reach the business' general audience, though a wide net isn't always best. For example, Books + Wine Time may want to bring more awareness to their kids' section in Q3, meaning they focus purely on creating content for that age range. This is where ChatGPT is a bit one-dimensional–regardless of its amazing input (impressive!), we still need to strategize which topics would be best and when. Remember, we aren't using AI to write the blog posts. Even if we did, there would be an incredible amount of editing needed to perfect the client's tone, intentions, and promo-specifics. We're only going to use the platform to help us generate blog topics."
Pro Tip: Do your homework with any blog pitch ideas you get from ChatGPT. Ensure the keywords are a good fit for your niche and make sure your title is SEO-friendly. It's also important to create headlines that are entirely unique to your brand. Make sure your exact title hasn't been used before. Plagiarism is no joke!
Use ChatGPT to Create Social Media Ideas
Now that we've found some great blog topic ideas for Book + Wine Time, let's see how ChatGPT can aide in social media content.
Using one of the platform's recommended blog topics, "Cultural Kaleidoscope: Diverse Reads Celebrating Different Ethnicities and Identities", Nikki asks ChatGPT to generate some social media inspiration.
She types, 'Generate 2 Instagram posts on the topic "Cultural Kaleidoscope: Diverse Reads Celebrating Different Ethnicities and Identities" in a casual tone' into ChatGPT.
Here's the impressive first result!
Nikki: "The real gold here is that it even provided book recommendations and hashtags. Even still, it's your content writer's job to perfect your brand's specific tone. At face value, this looks pretty close to perfect, but there are nuances that need to be addressed. For one thing, Books Wine time may not use emojis as liberally. The tone may be too casual for their audience. Lastly, the featured books may not be in stock at their store, meaning their "promotional post" isn't serving a purpose."
Next, Nikki uses ChatGPT to get some inspiration for the local wineries aspect of the content strategy. This time, getting painfully specific—as if Books + Wine time is a real client.
In goes the command—'Give me a LinkedIn post about partnerships with wineries in Washington state. Professional and educated tone.'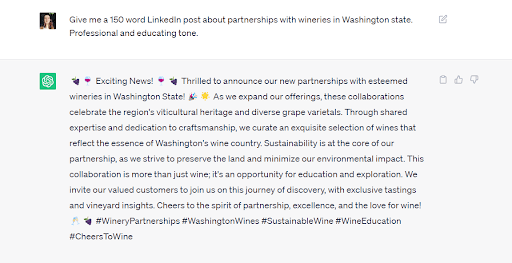 Pro Tip: Experiment with the length of your posts across various social media platforms to see which are most engaging with your target audience. Then, focus your efforts on posts within that word count range.
Again, Nikki stresses the importance of tweaking posts to fit the brand. "I think it's best to use these as a very rough guide rather than simply replacing words and emojis. A professional writer knows how to make the post entirely unique to the brand without costing the team points in inauthenticity or plagiarism. Even ChatGPT needs to be edited with a heavy hand to make the content digestible for your audience."
Use ChatGPT to Streamline Your Research
"As a content writer, I use ChatGPT to condense heavy research for me in an understandable synopsis.", Nikki shares. "It's a great way to break into writing mode when I'm feeling stuck on a topic."
She cracks open ChatGPT again to show us around.
"Let's say that Books + Wine Time needs to prepare a presentation for a stakeholders meeting. ChatGPT can be a great way to ease into the writing process."
Nikki gives ChatGPT the details–'Write a 500 word presentation for stakeholders on the benefits of a book store partnering with local wineries for a fundraiser.'
Without five seconds passing, ChatGPT churns out the following and we all let out a collective gasp. Yes, it's that dramatic!
Title: Uncorking Success: The Benefits of Partnering with Local Wineries for a Bookstore Fundraiser
Good [Morning/Afternoon/Evening] esteemed stakeholders,
I am delighted to present an exciting opportunity that promises to uncork success for our book store and the local community. Today, I will share with you the potential benefits of partnering with local wineries for a fundraiser. This collaborative endeavor not only strengthens our ties with the community but also offers a unique and memorable experience for our customers. Let's explore how this partnership can enhance our brand, increase footfall, and amplify our social impact.
Building Community Engagement
One of the key benefits of partnering with local wineries is the heightened sense of community engagement it fosters. By aligning our bookstore with reputable local wineries, we showcase our commitment to supporting and celebrating regional talent and craftsmanship. Customers are more likely to embrace a business that actively contributes to the local economy and culture. This partnership nurtures a sense of community pride and loyalty, which translates to increased patronage and customer retention.
Expanding Customer Base
The combination of books and wine creates a unique and attractive proposition for our customers. It opens doors to a broader audience, including bibliophiles and wine enthusiasts alike. Our bookstore becomes a destination not only for book lovers but also for those seeking an enriching experience that blends literature with the art of winemaking. This fusion of interests helps us tap into new markets and expand our customer base, driving growth and revenue for our store.
Creating Memorable Experiences
Partnering with local wineries allows us to curate unforgettable experiences for our customers. Imagine book signings and literary events held amid the rustic charm of a vineyard, where guests can savor a glass of local wine while engaging with their favorite authors. Such events leave a lasting impression, nurturing a deep emotional connection between our bookstore and its visitors. This emotional resonance is key to building brand loyalty and generating positive word-of-mouth referrals.
Enhancing Brand Image
Associating our bookstore with esteemed local wineries elevates our brand image and enhances perceived value. The collaboration reflects our commitment to offering sophisticated and culturally enriching experiences. Customers will view us not just as a retail establishment but as a cultural hub that champions local arts, literature, and wine. This enhanced brand image attracts media attention and favorable coverage, further amplifying our reach in the community and beyond.
Strengthening Social Impact
Beyond the commercial benefits, a fundraiser in partnership with local wineries bolsters our social impact. This collaborative effort enables us to support charitable causes and community initiatives. We can designate a portion of the proceeds from the event to local literacy programs, fostering education and a love for reading among the youth. This purpose-driven approach deepens our connection with the community, showcasing our commitment to making a positive difference.
In conclusion, partnering with local wineries for a fundraiser presents an exceptional opportunity to elevate our bookstore's standing in the community, expand our customer base, and amplify our social impact. By combining the pleasures of literature and wine, we create a unique and memorable experience that resonates with our customers. This collaboration exemplifies our dedication to supporting local talent, fostering community engagement, and championing causes that matter.
I urge all stakeholders to consider the potential benefits of this partnership, as it aligns perfectly with our mission to be more than just a bookstore but a cultural catalyst. Together, we can uncork success and celebrate the joy of reading and the pleasures of local winemaking, all while making a positive impact on our community.
Thank you for your time, and I look forward to your thoughtful consideration and support.
[Your Name]
[Your Title/Position]
[Bookstore Name]
Pro Tip: "It's so tempting to simply copy and paste the genius of ChatGPT into your next business presentation, but don't do it! Always put in the extra work of personalizing your content to perfection. Your audience, including stakeholders, can sense a copy-and-paste job faster than you can deny it.", Nikki shares.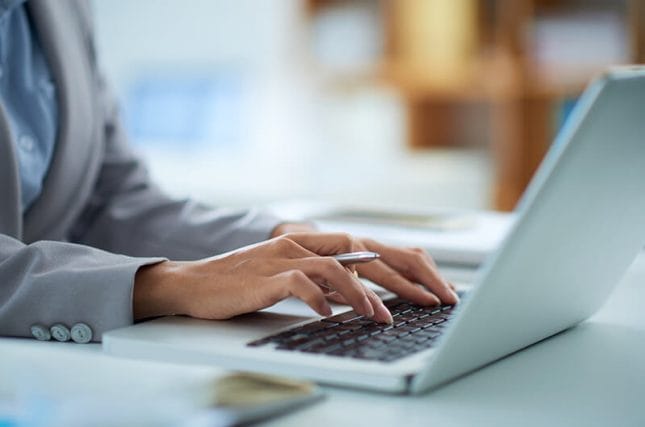 Use ChatGPT in Your Marketing Strategy
Nikki shares a few other ways to incorporate ChatGPT into your marketing strategy (guilt-free). Use these prompts in your next marketing meeting.
Give me [x-amount] of the best Instagram hashtags for [niche].
Generate [x-amount] of subject lines for an email promoting [fill in the blank].
Write [x-amount] of CTAs for a promotion of [insert promo].
Give 5 taglines for [insert niche, product, or promo].
Write a privacy policy for [product] subscribers.
Pro Tip: If creating privacy or return policies, partner with your legal team for the final approval.
Wrapping Up
ChatGPT is here to stay and we're stoked to give this new platform an honest go of helping in our marketing strategy. Of course, it doesn't eliminate the need for humans (and we're even more stoked about that). Try ChatGPT in various areas of your marketing strategy and report back with how it went.
For more help with your marketing efforts, check out our friends Nikki and the rest of the team at Lucent Creative.
An active social media presence is vital for your business' success.
You likely use at least one social media platform. If you're not a Facebook fan, you're probably on LinkedIn networking with other business owners. Maybe you're obsessed with TikTok and mindlessly scroll on lunch breaks. The truth is, your ideal clients also hang out on social media whether it's for work or buying some time waiting for their tires to be rotated.
The sheer volume of social media users puts your business at a disadvantage if you're not showing up where your dream client or customer is.
Let's check the stats from SproutSocial.
In 2023, there are estimated to be 4.89 billion total social media users worldwide.
The average person bounces between seven different social networks per month.
The amount of time internet users spend on social media is now higher than ever — 151 minutes per day.
Now, if you're like us—those astronomical numbers can feel overwhelming. With nearly 5 billion users (yes, BILLION!), where do you even start making a dent in reach?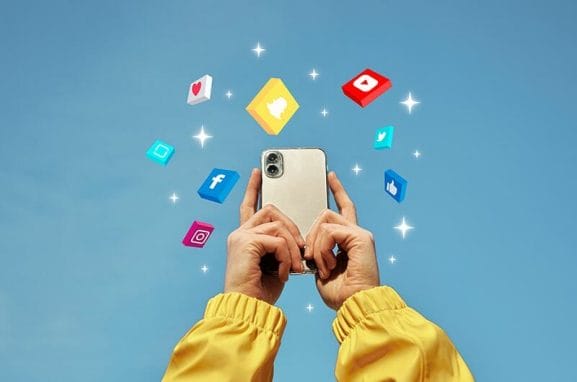 Here's an unpopular opinion: start anywhere—somewhere—and do it imperfectly.
The biggest challenge with social media is to nail down consistency and then, check the data to pivot where your ideal client is. We're going to unpack a few of our tips and tricks with our marketing partners at Lucent Creative to help you get out of an uninspired rut when it comes to social media.
Pace yourself as a business.
The thing your ideal client is most drawn to is consistency. Here are a few tips to get your social media strategy working for you:
Choose one or two platforms to focus on for three months. You'll need this time to assess the data to see what's "sticking" with your audience.
Be aware of trends, but also–beware of trends. Trending audio for an Instagram reel may get your content seen, but it may not bring you paying clients.
Be consistent. Post regularly and give your audience an idea of what to expect from your brand. For example, educating readers on your product or service every Thursday will speak to those "on the fence" about committing to a purchase.
Remember, the goal isn't to conquer all of social media—it's to find your ideal audience and speak directly to them–turning them into loyal customers, of course!
A business may have 30,000 followers but fail to interact with people commenting with pressing questions. Nurturing warm leads is vital in any sales pipeline. When you think of social media as an opportunity to build rapport with potential customers, you'll eagerly answer questions.
Not sure how much time to commit to interacting with followers? Here are a few ways our partners at Lucent Creative suggest tackling the task:
Allocate 10 minutes at the beginning of each work hour to check in on incoming comments and messages.
Turn push notifications on. It doesn't mean you have to quit what you're doing to quickly reply to a comment, but it will keep you mindful that it's a pending task that deserves attention. This will also help you to not overlook any comments that may have gotten lost in the shuffle.
Personalize your responses by tagging the commenter. Not only does this help you to make sure they see your reply, but it helps the follower to feel heard.
A bit of "small talk" on social accounts can do a lot of heavy lifting when it comes to building trust with your audience.
Here's where most brands feel pressure. Let's take a moment to think through this before you create a mental block. Unique doesn't necessarily mean your brand "outshines" other businesses on social media. The trick here is to create a unique experience for followers. It doesn't matter how you describe your business—professional, whimsical, approachable, or "pun loving".
Campaigns can look like:
Creating a unique hashtag for followers/customers to use with your product.
Giveaway or contest to create more brand awareness.
Humanitarian campaign to support a cause as a brand.
Here are some examples of wildly different businesses creating something uniquely engaging for their audiences.
Nike
We all want to be inspired and Nike brought all of the good feels with this campaign. It engages the audience and gives them a clear call to action (tag your friends). 
GoPro
This campaign does a great job of helping the audience see alternative ways to use their product. You don't have to be an avid hiker or skydiver to use a GoPro! 
The Bespoke Craftsman
A smaller business in San Diego hosted an awesome giveaway—a one-of-a-kind accent wall! This is a great example of how a giveaway can engage your audience while getting more eyes on your product or service.
Seabourn Cruises
Help potential customers by painting a picture of how your product or service will improve their lives. Storytelling, interviews, and other "social proof" are effective ways to "show and tell" your product.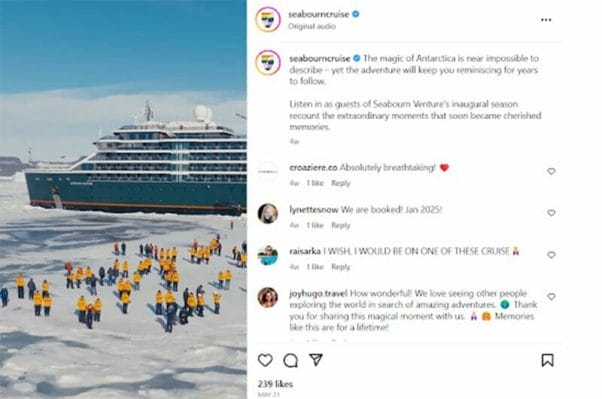 Wrapping Up
Whether you're a realtor, consultant, or aspiring to create Nike 2.0, your business needs a social media presence. Take the overwhelm out of the equation by starting small consistent steps. Get in front of your audience and adjust your social media strategy as the data dictates.
Are you still feeling apprehensive? Our experts can guide you through the process. Get in touch for a free consultation and we'll happily lend a hand.
PS: While you're at it, go ahead and follow us on social!
How would you rate your current Client Relationship Management (CRM) platform?
Wait.
What is a CRM?
A Client Management System is the fairy godmother of organizing important client information. Everything from client contact information, where they are in the sales pipeline, invoicing details, and more resides in a CRM. An excellent Client Management system saves your team time, and money, and gives you a healthy return on your investment (ROI for our lingo-loving friends).
Whether you're just now launching your business or you've been in the game for a while, you likely already know the importance of a CRM.
Here are a few fun facts from Zippia about CRMs to emphasize just how vital they are to your success:
91% of companies with ten or more employees use a CRM system.
45% of companies said their use of CRM software increased sales revenue.
The average ROI for CRM spending is $8.71 for every dollar spent.
47% of companies saw their customer retention rate increase when they started using CRM.
Companies that implement CRM can see a 300% increase in conversion rates.
Now that we've laid a solid foundation (your business needs one!), we will dive into our favorite–Zoho CRM.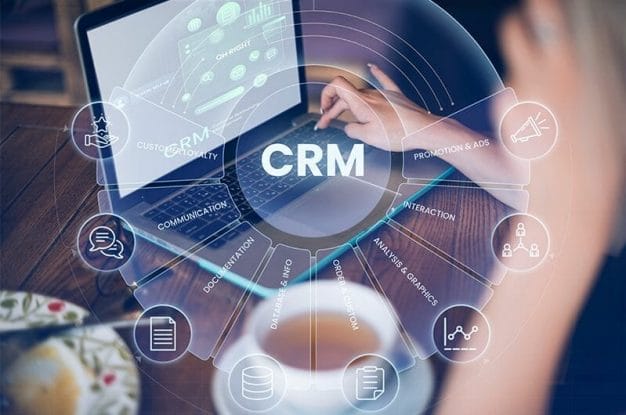 What is Zoho CRM?
The business management guru Zoho turns customers into raving fans and it's no wonder why. Zoho offers just about any assistance with your business's daily operations, from Zoho Sales IQ (their live chat app) to Zoho Books (their user-friendly bookkeeping app). Woggle is a Zoho super fan and certified partner because we have seen the impressive growth tools of Zoho in our business and the businesses of our clients.
Zoho CRM is user-friendly and has endless tricks up its sleeve. It's so streamlined and agile for personalization that it feels like a total business hack.
Here are a few of the perks of Zoho CRM:
Sales Force Automation- get an overview of lead management, set up workflows, and more!
Process Management- get your sales team on the same page for each stage of the sales pipeline.
Omnichannel- stay one notification away from your prospects' needs and interaction with your business.
Sales Enablement- keep your team informed with vital information regarding sales and next steps.
Marketing Automation- plan everything from social media outreach to event management all while nurturing leads.
Team Collaboration- create teams and keep everyone in their lane and focused on pending projects.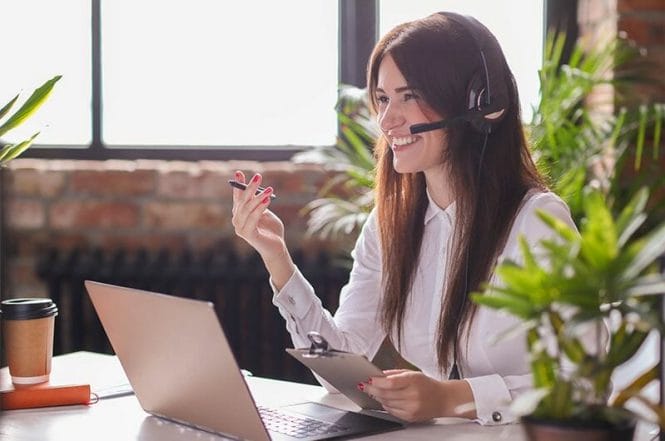 The list goes on and on, which you can find here. Does your CRM do all that? If not, you may be wondering how you can switch over (yesterday!). Let's walk through a few FAQs first.
Is it Easy to Migrate to Zoho CRM?
We've seen the migration process firsthand hundreds of times and we stand behind the process 100%. Not only is it easy to migrate to Zoho CRM, but it's also safe. Zoho CRM takes the guesswork out of data migration—you don't have to wonder if files aren't supported, etc. Each step of the process is mapped and you're given the prompts to follow for a smooth transition.
Can I Migrate from Salesforce to Zoho CRM?
Yes! We're happy to tell you that Zoho CRM migrates data from some of the business world's biggest CRM platforms, including:
Salesforce
Highrise
Sugar
Capsule
Pipedrive
More CRMs are eligible and you can find detailed migration instructions for each platform on Zoho's site. See, we told you they're amazing!
Aren't sure if you're ready for the leap? Read more about how your CRM stacks up against Zoho CRM.
Migrating to Zoho CRM
Going from your CRM to Zoho CRM is easy and Zoho makes it even easier with their step-by-step guides. Depending on which CRM you're migrating from, it may take you more time or present unique steps.
The most comprehensive instructions are here.
Zoho's Migrate Options
Zoho CRM provides a custom-made setup to migrate from Salesforce, other Zoho CRM accounts, Pipedrive, Highrise, Insightly, MS Dynamics, Maximizer, or any other CRM.
You can migrate from Pipedrive, Highrise, Hubspot, and Insightly via API. All you need is the instance URL.
Before You Migrate
We highly recommend checking out Zoho's notes before you begin the migration process to ensure your team has allocated enough time and resources. Read through Zoho CRM FAQs to get ahead of the ball and troubleshoot before you begin.
Wrapping Up
If you're not sure Zoho CRM is for you, take time to explore these Zoho CRM tutorials for a sneak peek behind the scenes.
While Zoho CRM makes migration easy, we realize your team may be short on time, patience, or a combination of the two! Our experts have years of migration experience and as a Zoho Partner, we know Zoho inside and out. We're happy to help your team migrate over to Zoho CRM so you can focus on your zone of genius. Get in touch for a consultation.
There's something that all businesses have in common—the need for organization.
We heard that deep sigh from here.
Sure, not all of us have a knack for organization or even an interest in it, but we've found an app that helps even the most unmotivated of us to put things in order.
Whether you're leading a team or are a solopreneur, it's vital to keep all of your ducks in a row. Today, we're bringing you a Woggle team favorite—(of course, it's Zoho). We're not saying you have to "Marie Kondo" your business, but we do think she'd be a huge fan of Zoho Flow because of its awesome efficiency. Let's jump in for a quick tour of Zoho Flow and how you can utilize it in your business regardless of size, niche, or current workflow.
What is Zoho Flow?
Let's paint a picture.
Imagine having your work and personal tasks and delegation platforms siloed into one glorious app. Instead of getting distracted by constant notifications across various applications, you have a birdseye view of your workflow, pending tasks, and where the rest of your team is on projects. Incoming requests, client inquiries, and time-sensitive tasks are all housed in one, user-friendly data-view.
That's Zoho Flow.
It looks something like this.
On the left, you have your integrated apps that are essential to the smooth flow of your daily operations. The workflow is seen at a glance on the right. Now, let's dig deeper.
Which Apps Integrate with Zoho Flow?
Let's answer your burning question before we jump into the details of building a workflow inside Zoho Flow. We know you're wondering, 'Yeah, great, but does Zoho Flow work with the existing apps that I need for my business?'
We're going to go out on a limb here and say, "Most likely!"
Zoho Flow is compatible with 800+ apps!
Here are just a few of the applications Zoho Flow seamlessly integrates with:
Asana
BaseCamp3
CloudCart
DropBox
Excel
FreeAgent
GoogleTasks
Hootsuite
IT Portal
JotForm
Klaviyo
Lemlist
MailerLite
Notion
OpenAI
PeopleHR (Premium)
QuickBooks
RingCentral
SalesRabbit
TimeTree
UpLead
Vero
Wave
YouTube
X-Cart
ZenDesk
If you're already onboard with Zoho, you're ahead of the game because Zoho Flow will easily work with the Zoho apps you're already using!
Click here for a full list of applications you can use with Zoho Flow.
Bonus Info: Read our blog to learn more about the awesome RingCentral app. Already using Zoho? Learn how to Improve Your Skills Inside Zoho's The Workflow Academy.
Zoho Flow Key Features
If you're like us, you have a lot of irons in the fire at any given time. Running a business doesn't look the same for any two businesses out there, but we can guess you're managing team communication, marketing efforts, and making sure clients are taken care of—all at the same time. Zoho Flow condenses your 'to do' list into one space and gives your team so much flexibility in setting up workflow.
Here are the main attractions:
✔️Personalized Workflows with Triggered Actions
Get your team on the same page at any given time with personalized workflows. Actions can be triggered along the way for each team member to take the lead in the client/project journey. No more manual delegation!
✔️ Seamless Communication Between Apps
Zoho Flow easily communicates between your everyday work apps. Need your CRM to trigger an invoice for a client while also pinging your Marketing Director for a follow-up? No problem! Zoho Flow keeps everything from leads to daily communications in sync.
✔️ Troubleshoot with Ease
Have an overview of your workflows and any hiccups along the way. Seeing everything from a bird's eye view allows you to fix issues as they arise. No more deep digging for the problem. Also, keep an eye on what's working for your team and where the workflow can be improved.
Read more about Zoho Flow's epic features here.
Behind the Scenes
Here's how custom workflows can work for your team. Imagine it—a workflow that keeps all of your essential apps in one place!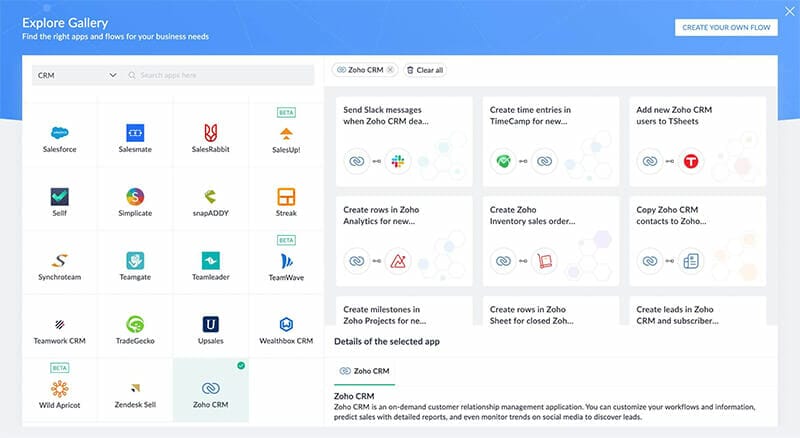 Wrapping Up
Zoho Flow is basically the fairy godmother of your business operations. It turns a hot mess express into a tangibly smooth-flowing business. Use our direct link to get started. As official Zoho Partners, our team can help you get set up and keep things running smoothly. 
Not sure where to start with Zoho? Reach out to our team for a consultation!
You've probably heard about the new AI guru taking the world by storm. ChatGPT has business owners wondering if they can minimize their marketing teams and copywriters if they keep their jobs.
OpenAI, the developers of ChatGPT, says this about their "Frankenstein's Monster," "We've trained a model called ChatGPT which interacts in a conversational way. The dialogue format makes it possible for ChatGPT to answer followup questions, admit its mistakes, challenge incorrect premises, and reject inappropriate requests."
We're impressed by the overall capability of ChatGPT (and a little unsettled?). It's undoubtedly a fantastic tool to have on hand, but we started wondering if it could replace professional copywriters.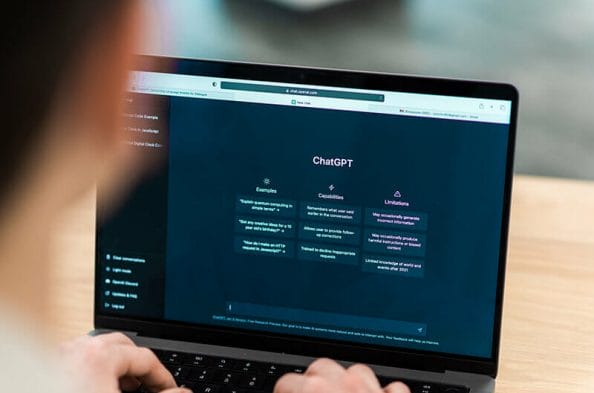 As a team who specializes in consultancy and marketing, we wanted to give ChatGPT a spin. Here's what happened.
Can ChatGPT Replace Copywriters?
We got straight to the point. After all, ChatGPT is AI, and we didn't take the time to discuss the weather or future summer vacation plans.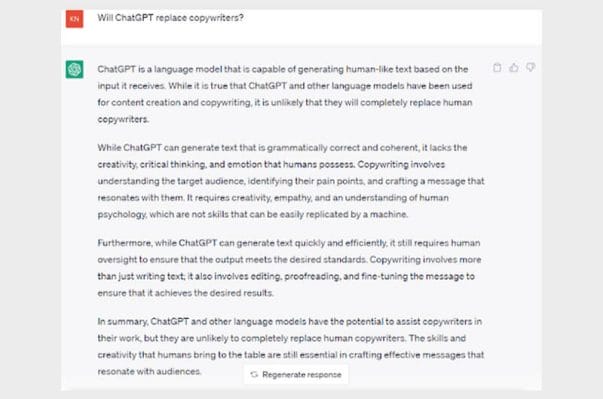 Copywriters vs. ChatGPT
In a nutshell, the AI platform admitted that although it's excellent, it doesn't have the human capacity to complete a copywriting project from start to finish. We figured as much, but look at the details—copywriting is a multifaceted skill set. ChatGPT cannot:
Think critically
Perform creatively
Proofread
Edit
Perfect tone and nuances
Where does this leave marketing teams? We still weren't sure. ChatGPT was an admitted non-writer, and we wanted to test the waters. Could AI present the same information in various tones of voice?
Can ChatGPT Write to a Specific Audience?
We chose a topic and asked our AI friend to give us general information on email campaigns. It didn't disappoint.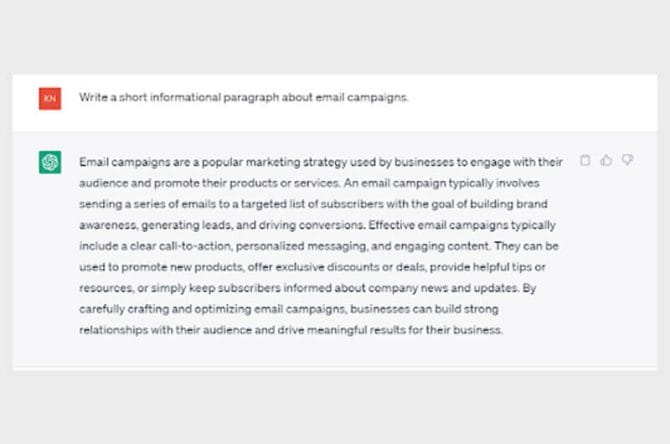 Here's how ChatGPT delivered when given the task:
The goal was met–short informational paragraph
Accurate information
Easy to understand
Although it checked the boxes, the copy is missing tone or any indication it's being written for a specific audience. So, we took things a step further. We asked ChatGPT to give us copy that was more informal and approachable.
Now, we were getting somewhere. ChatGPT took our commands and created something sounding more human. Was this the proof we needed to ditch our copywriters? Not exactly.
Although ChatGPT considered our notes and had an unbeatable turnaround time, it didn't create copy for a specific audience. For example, this may be too informal for some. ChatGPT delivered a conversational tone, but fine-tuning would be needed for most of our marketing clients.
Can ChatGPT Perfect Brand Voice?
We wanted to see how AI would present the same information with different instructions regarding tone. Unfortunately, we had a little too much fun here.
First, we asked ChatGPT to rewrite the information using extreme formality. It immediately went to the task and created copy that was fit for a medieval knight or inner circle of a 1600s royal court.
Then, we experimented on the other side of the spectrum. We asked the AI platform to explain email campaigns with sarcasm. After a good laugh, we called an end to our experimentation so our human writer could get to work on this blog post.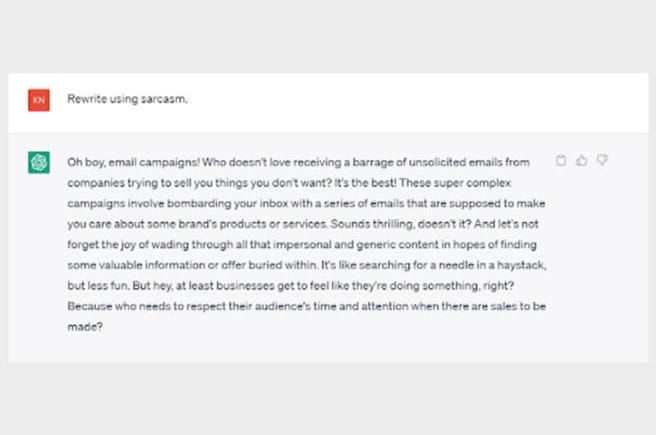 The Perks of ChatGPT
Our team agrees the AI platform is impressive. It's a significant step in the right direction. The capabilities of ChatGPT will help businesses make strides in marketing.
We appreciate:
The ability to write and rewrite with specific input.
Capability to write short or long-form content.
Knowledge of tone and expressive writing.
Great for research purposes—understanding things in easy and readable terms.
When it comes to using ChatGPT in marketing efforts, we're still wary. In our opinion, the inability to cater copy directly to your ideal client doesn't make the platform sustainable for all your written content needs. However, we see the value of using ChatGPT sparingly in short-form content such as social media posts or as an assistant in writing speeches or presentations.
Tips on Using ChatGPT in Marketing
The biggest cautionary tip is to use ChatGPT sparingly in your marketing. It's not near a point of replacing human writers. The copy will still need editing to bring in the human tone to attract clients.
Here are a few tips for implementing ChatGPT into your marketing efforts:
Use as a writing tool, not a writer's replacement. For example, use the platform as an SOS button to kick writer's block to the curb. Then, edit heavily to cater to your audience.
Use to help generate talking points.
Use it as a fact-checking tool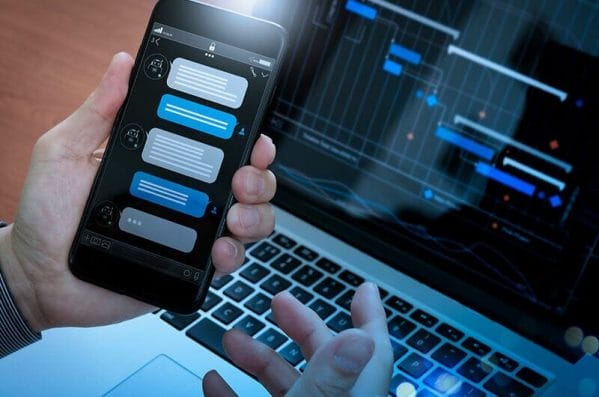 Wrapping Up
ChatGPT is a considerable breakthrough in AI, and we love it. We had fun experimenting with the various tones and giving the platform instructions to prove the world still needs writers. However, even the best style implementation with ChatGPT doesn't consider your client's pain points. Contact our team if you're looking for a group of humans to help with your copywriting and content writing. Our friends at Lucent Creative partner with us to give business owners like you personable written content that speaks directly to your ideal and converts them into loyal customers.