Are last-minute missing signatures throwing a wrench in your projects?
Don't worry, this isn't an intro to an ill-lit infomercial.
A robust CRM (client relationship management being the "scientific" term) allows you and your organization to collaborate, keep tabs on important data, and you guessed it–manage your relationship with clients.
Now, if we were to splurge and use our entire marketing budget on an infomercial, I'd point at the camera now and declare, "Zoho Sign is the final sign-off you need to run a successful business!".
I would be getting ahead of myself because it's important to know what Zoho Sign actually is and why it's your business' next best move.
What is Zoho Sign?
E-signatures (probably shouldn't call them "e-sigs" for short?) are more common than they have been in the past. Technology advancements and the shifts in remote work have made electronic signatures a common task in daily business. Everything from mortgages to consent for travel insurance have us all signing off on a screen.
Zoho Sign is pretty straightforward– the plugin allows you to send important documents over for signature straight from your CRM! 
What are the Benefits?
In a nutshell, we're super fans because Zoho Sign allows business owners to manage customer relations without missing a beat.
Using a separate web-based e-signature platform from your CRM proposes a few issues:
Dropping the ball on requesting the signature or signing
Inaccurate or missing client email or contact information
Requests for signature being sent to junk/spam folders
Anything that needs written consent is too important to fall through the cracks. Zoho Sign integrates with your CRM to seamlessly keep documents moving down the pipeline.
Which brings us to scene two of our infomercial.
Can I Use Zoho Sign if I Don't Have Zoho CRM?
Yes, you can use it even if you're not using Zoho CRM.
In this part of the infomercial, a diagram would pop onto the screen and show you the user demographics of Zoho Sign.
You'd see some of these leaders in CRM:
Zoho CRM
Hubspot
Pipedrive
Vtiger CRM
Now, we're fans of keeping our Zoho platforms together for effortless usability and because they're just that great.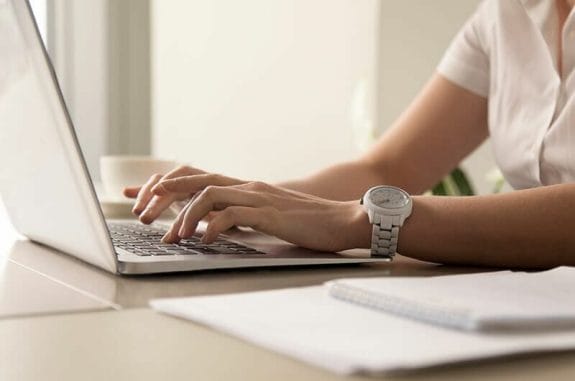 Zoho shares a few perks of Zoho Sign being used alongside its bestie Zoho CRM in their blog post :
Mail merge templates can help you send the same documents to multiple customers with different names and addresses.
Inventory templates help you send quotes and sales orders to different vendors for signing.
Brand your documents by adding logos, images, copyright symbols, and email addresses.
Create personalized templates and reuse them to save time and effort.Add multiple signature slots to a document and send it to different recipients simultaneously.
Configure workflows to send documents on a fixed date.Define the order and conditions for approvals.
Read more: Hey, if you're not already a Zoho CRM user, take a look at our recent blog post Zoho CRM vs. Hubspot.
Can I Use Zoho Sign Without a CRM?
You bet! See, we told you we're Zoho fans.
Zoho Sign has a free option which can be used by anyone anywhere regardless of "CRM status". If you don't need a robust e-signature platform (you sign fewer than five documents a month), the free plan is an amazing option. We encourage clients to test drive the platform by opening a free account. 
Using Zoho Sign as a stand alone platform doesn't disappoint. Have a look below at the benefits you get even if you don't need to integrate it with a CRM.
Zoho Sign's free plan is phenomenal! They don't skimp on features just because you're not paying.
Here's a snapshot of Zoho Sign's payment structure so you can see what fits your business needs.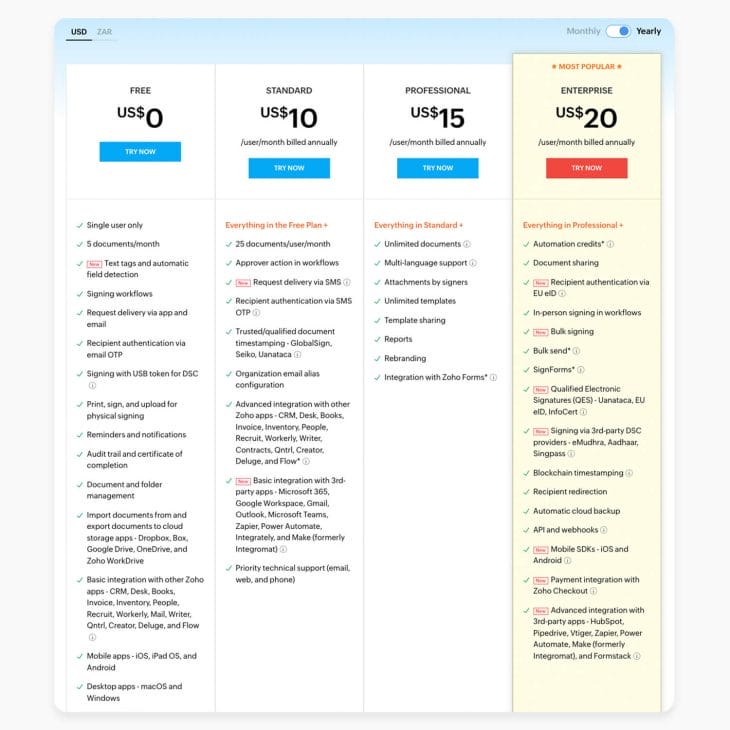 Get a free 14-day trial, no credit card required. To give Zoho Sign a try, use our link to get started.
Wrapping Up
Zoho Sign allows you to keep your clients and team informed while also keeping projects rolling. Although we recommend Zoho Sign being used along the Zoho CRM, you can integrate the plugin with your existing CRM.
Remember, you can also use Zoho Sign as a stand alone platform. Sign, upload, and manage on the go from any device!
Do you need a hand finding the business platforms and apps that work best for your team?
We're always here for a free consultation. Book here!
As for that infomercial–it's a wrap!