Your website is an important lead generation for your business. You can actually think of your company website as your business' dating app. No really, entertain us for a second. The two platforms have more in common than you may realize.
Both give you a fraction of a second to make a great first impression before the viewer loses interest. Hey, we don't make the rules.
Here's a snapshot of website stats to drive the point home:
With numbers like those, it's no wonder website design is a crucial undertaking for businesses. If you don't have one yet or are looking to spruce up an existing site, our experts want you to proceed with intention so you make the most of your website design.
Web Design with an Incredible User Experience (UX)
Potential customers want to find what they're looking for quickly. We've all landed on a website only to immediately leave it for any of these reasons:
Slow download time
Hectic design
Unclear offers/messaging
Creating an impressive UX puts your company in the running for capturing leads and growing. There are a few things to remember when creating a website that is easy to use and makes a solid first impression.
Design for your target audience. Your website needs to be visually appealing and formatted to your target audience. For example, if you're a high-end consultancy firm specializing in AI, your website needs to be technology-forward, robust, and use the jargon AI professionals understand. When people land on your website, they should know exactly what your brand offers.
Design navigation bars to be seamless. Set your business up for success with easy-to-use navigation bars. This can be tricky for brands that offer a vast amount of products or services. Use categories, accordion-style menus, and subcategories to help customers find what they need right away. Include a search bar for more navigation ease.
A Brand That Got it Right
Our web design partner, Lucent Creative, designed a user-friendly site for a well-known pizzeria franchise. See how the navigation is seamless? The brand's identity is also obvious and doesn't leave the site visitor wondering what they offer! 10/10!
Mobile-Optimized Website Design
Did you know 60.67% of website traffic comes from mobile devices? Think of how many times you've bailed after landing on a website that wasn't made for mobile. Create loyal customers/clients by prioritizing a mobile-ready site. A mobile site will:
Increase ROI
Provide a better customer experience
Generate more leads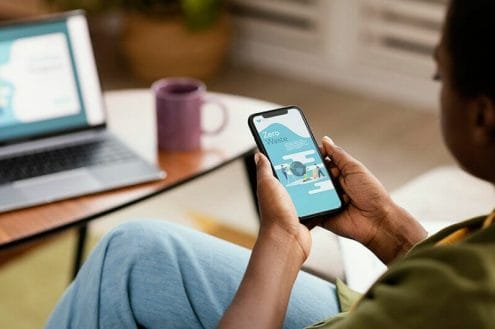 It's safe to say optimizing your website for mobile view is essential. Here are a few tips on how:
Use a large, readable font and a simple design. A hectic design on a desktop becomes even more complicated on smaller screens. A mobile-responsive website requires you to keep it simple. Test the parameters on mobile view as you design.
Avoid pop-ups. Businesses use pop-ups for important announcements, but more often for lead generation. They are intrusive on mobile, though, and can disrupt a shopper's experience. Use a lead capture form in lieu of a pop-up on your mobile site.
A Brand That Got it Right
Lucent Creative, designed an epic, clean site for a 5 day online event. The design is crisp, decluttered, and keeps the visitor focused. 
Use Social Proof
Most of your website browsers already know what they want and they need to know why you're the one they should hire. This is where your business gets to show off a bit. All of us rely on social proof to make decisions.
Psychologist Robert Cialdini writes in his bestselling book Influence: The Psychology of Persuasion, "Whether the question is what to do with an empty popcorn box in a movie theater, how fast to drive on a certain stretch of highway, or how to eat the chicken at a dinner party, the actions of those around us will be important in defining the answer."
There are several ways to provide social proof for clients, but here are specific tips on how to prioritize it in your web design:
Leverage client testimonials. Draw attention to raving fans with testimonials. Use brand colors, larger fonts, or an interactive layout (accordion-style drop-downs or scrolling banners) to draw the reader's attention to testimonials. Testimonials are massive sources of social proof for clients that are still on the fence about hiring your team.
Offer excellent social proof with case studies. Case studies can fit in naturally with a blog section of your new website design. They also make great opt-ins for email capture. Make sure you keep simplicity and readability at the center of your case study designs. Although they're typically dense with information, use graphs or other designs to make them easy to scan.
A Brand That Got it Right
Our web design gurus built this website, with an array of case studies and blogs, for a dog training and pet care services company. The design provides proof of the brand's expertise without clutter.
Before You Go
We're partnered with a small web design agency, Lucent Creative, that throws a major punch! If your business needs a website upgrade or one from scratch, we couldn't recommend our partners enough.
Stay tuned for part two of our guide to designing an epic website.
Ready to level up in your business? Book a free consultation.