Here on the Woggle blog, we talk about all kinds of solutions for your business, from the uber complicated to the most basic fixes. Today we are heading back to the basics and discuss the foundation of any successful business: customer engagement.
Customer engagement includes the more sales side of operations and the customer support side as well. You can have all kinds of bells and whistles, but without an effective way to offer the right resources or help with concerns, your business will struggle.
That's why our friends at Zoho have stepped in and created SalesIQ, AKA the ultimate customer engagement solution.
Let's talk about what all Zoho SalesIQ can do for your business (and why it might be a great fit)!
Get all the insights
Zoho SalesIQ has the ability to track important information about website visitors and can distinguish hot leads from lukewarm leads. Through SalesIQ, you can figure out where visitors are spending their time, what they are clicking, and even what led them there.
Are they returning customers? How did they find your website? Did they run into problems? SalesIQ can give you insight into all these things and so much more! It can even create a contact "profile" from the information gathered. If you have a B2B model, it can identify companies that frequent your site from something as simple as an email address.
Increase your conversions by gathering pertinent insights in real-time!
Live Chat With Your Customers
We've all been there: you visit a website and encounter a chat function with automated answers and resource links. Have you ever thought about what runs that chat? Or who set it up?
With Zoho SalesIQ, you can easily place this kind of chat function on your website! Through this application, you can speak with customers in real-time whenever you (or your agents) are available.
On top of a live chat, you have the ability to screen share (both ways) or launch voice calls when a simple chat isn't exactly doing the trick. Customers also have the option to reference previous chats, which can come in handy if they don't feel like screenshotting an entire conversation.
Plus, if you have customers contacting you through other sources like Facebook or WhatsApp, you can connect it all to SalesIQ and handle all communications from one place!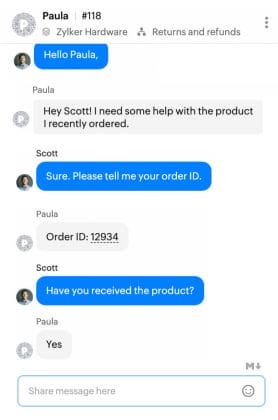 Don't Feel Pressured To Be Available 24/7
What if a customer has an issue at 2 am? Well, that's why Zoho SalesIQ created non-live chat features!
SalesIQ allows you to create your own helpful articles that can be auto-shared through chat; you can also do this with FAQs you've encountered. Set triggers within chat that will automatically give them relevant information or redirect them to another department.
Zoho SalesIQ doesn't force you to use generic templates and responses– you get to personalize the chat until you feel it's appropriately serving your customers (and making your life a little easier).
Customize To Your Heart's Content
We'll clear up one of the most asked questions: Can I customize it to my liking?
Zoho is great at offering customizable solutions, so of course, SalesIQ is no different.
Like with most Zoho products, you can seamlessly integrate Shopify, WordPress, Salesforce, and other commonly used applications that you already pay for. You can even pull information from these applications through widgets and use them while you chat with customers!
With these widgets, you can have whatever data you need at your fingertips! Yep, that's right: close out those 55 tabs in your browser– SalesIQ will let you conveniently pull up what you need inside the chat!
Control lead-creating criteria, chat triggers, and what data fields are displayed. You can even add criteria for blocking spammers and other digital nuisances.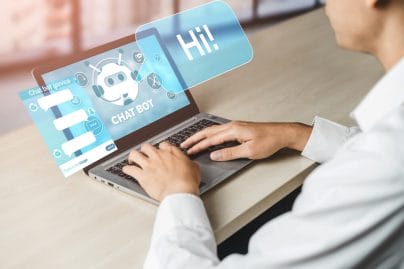 Monitor Performance
Zoho SalesIQ not only helps you set up a great customer support system, but it also helps evaluate how well it's working!
If business operations involve more than just you engaging with customers, you can easily monitor agent performance. Figure out shortcomings and areas that may need a little spruce. Monitor chats as they are happening to give real-time feedback or jump in and assist. SalesIQ even gives you the option to set up surveys for additional customer feedback.
SalesIQ Can Help No Matter Your Niche
B2B? B2C? B2…alien? Whatever your business model or product/service, SalesIQ has probably encountered something similar.
To boost your confidence on this subject, visit the Solutions tab on the SalesIQ website and read all about the variety of businesses they've assisted. Realtors, travel agencies, colleges–you name it, SalesIQ has created a tailored solution.
PS: Visiting this page even gave us ideas we never would have thought about otherwise!
Here's Your Ticket To Great Customer Engagement…
Can you perfect customer engagement? No. Can you optimize customer engagement in a day? Also no.
What can you do? You can use Zoho SalesIQ to try out some new approaches, tweak existing processes, and brainstorm fresh ideas.
At the end of the day, It's all about the customers! Utilizing SalesIQ to improve the customer experience will boost their confidence in your business and give them a reason (or several) to keep returning to you.
Want to find out how we can help you? Let's chat.