It's no mystery that the business world has moved more and more into the digital space. What is the point of having physical files and mile-long contact lists when you can access anything you need with one click? Companies like Zoho cater to this uptick in online solutions, supplying everything you could possibly need to run your business all in one place. With everything from website design to marketing support, Zoho places customizable and easy-to-use applications at your fingertips. 
As we head into the most wonderful time of the year (tax season), there's no better time to talk about a Zoho solution that makes it all a little less painful: Zoho Books. Forget about your tax specialists, endless paper receipts, and financial paperwork– Zoho Books is your one-stop-shop for all things accounting. 
We're All About Convenience 
Let's face it. We live in a world where convenience is king. Lines, leaving the house, locating our keys - it all takes up time– and whatever allows us to spend more time on the couch binging Netflix is our friend! (Just know, if you would rather spend your free time working on your business, that's okay with us, too.)
Either way, there are a lot of great things about Zoho Books. In our opinion, the best thing is that it makes running your business so much easier. All the accounting aspects are handled, from inventory to banking. Zoho Books even has a convenient time-tracking feature that you would probably just use a separate application for!
Stay organized and virtually paperless. Save time on minor details and tasks that you can otherwise spend on growing your business. Allow Zoho Books to step in and take some inconvenient and time-sucking tasks off your plate! 
Take Communication to the Next Level
Zoho Books has a client portal that allows you to keep all client communication within one application. Send quotes, discuss estimates, and exchange feedback all in one place. Not only will this be a better experience for your clients, but it will keep your business running much more efficiently.
Even better, the client portal allows your clients to manage their own experiences. They can make payments, access invoices, and change personal details all without assistance from you. Not only is this incredibly convenient for them, but it saves multiple steps and mishaps on your end of things. It sounds like a great bargain to us!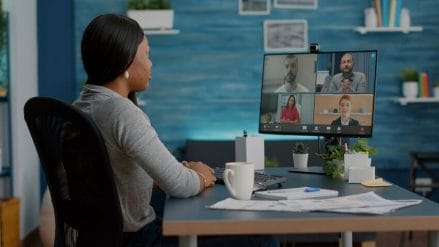 Eliminate the Stress of Tax Season
Avoid the pile of forms and the last-minute panic when you can't find the paperwork you mysteriously misplaced three months ago. 
Zoho Books makes tax season a breeze, keeping up-to-date with IRS guidelines and ensuring your sales tax liability is in check. Access all the transactional documents you could possibly need with the click of a button. 
Zoho Books even takes the work out of hiring contractors and the tax season headaches that come with it. Soon you'll be talking about a 1099 form like it was your college major! 
Before you know it, taxes will be taken care of and you might even be ready for the year ahead! 
Bigger Bang for Your Buck
As we mentioned before, Zoho Books doesn't come alone- it is a part of Zoho One, a group of over 40 other customizable applications that help out your business. On top of Zoho Books, you can utilize a wide range of marketing tools, collaboration-boosting applications, all your online business solutions and so much more. Why pay multiple other companies for the same services you can get under Zoho? 
Zoho applications and services are intended to fit your needs. They understand the importance of customized business solutions and don't force you to purchase a one-size-fits-all package. Find everything you need in one place without overpaying for things you won't use.
Not only does Zoho One supply tons of online business solutions and tools, Zoho products (like Zoho Books)  have forums and other great resources where you can easily find the answers you need. Zoho has a great customer support system ready to answer any questions you may have, but you can also easily access experiences and tips from other users! 
Have We Convinced You Yet?
If the idea of creating accounting appointments or hunting down 7-month old documents puts a knot in your stomach, Zoho Books would be an excellent solution for you. Take the stress (and endless hours of wasted time) out of your accounting tasks– we know you have a million other important things on your to-do list! Let Zoho Books do the work for you. 
Book your free initial consultation today and we can tell you more about the wonders of Zoho Books! We'd also love to help you with anything else that could make your life as a business owner just a little easier.