Imposter syndrome is easy to catch, especially with information thrown at us from all angles.  Business owners are constantly in a state of comparison, worrying about the competition and how to stay relevant. They have to worry about the next steps and how not to get overwhelmed. 
Today, we remind you of something important: no business is too small to invest in the right tools. 
Yes, you heard us correctly– nurture and invest in your business! If you don't invest in it now, how will it ever become the Allstar you know it can be? We also happen to know of a great place to start: CRMs.
There's the imposter syndrome kicking in! We can hear it already! Well, shut it down because your business is fully ready to add a CRM to its toolbox. If you find the right CRM that fits your business needs, it will propel your business forward.
What the Heck is a CRM?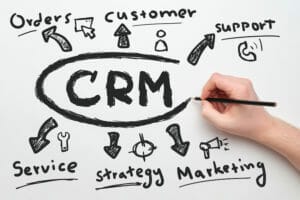 CRM stands for Customer Relationship Management, and the concept is pretty straightforward: CRMs take care of your customer relations from start to finish. They collect valuable info from customers, determine potential leads, and manage the relationship going forward. 
Depending on the CRM, it honestly can do anything to help with your business needs, from finances and sales reports to customer support. 
By 2027, the CRM market is expected to skyrocket to 113.46 billion dollars! Businesses of all sizes and niches use CRMs and get some major bang for their bucks. Now let's take a look at some more reasons why a CRM would be great for your small business!
Get Help Growing Your Business
All businesses start from somewhere, but that doesn't mean you have to stay there. If your business is doing well and you know it's getting bigger and harder to manage, invest in tools to aid scalability. Growing pains will happen– CRMs can be a major help with those pains. 
Take on more customers and profit without hiring tons of extra team members. Let the CRM do the mundane, time-consuming tasks. Let it organize the information and create reports. You're going to outgrow those spreadsheets, so let the CRM take over!
Don't get bogged down by a growing number of to-dos; pay a monthly fee and let the CRM perform its magic.
Concerned about finding the CRM that aligns with your business growth goals? Zapier did an excellent report on the best CRMs for different needs. Are you worried about the price? Need help with scaling? You'll find something that suits you on this list.
Add a Middleman
Listen, the middleman gets a bad reputation– sometimes it's not all that bad of a concept!
You don't have to worry about human error with a CRM because it will communicate pertinent changes and news. A CRM will consistently update information and make necessary phone calls. It will know when to follow up (and actually follow up), so you don't have to hire another person to handle that. 
We're all about giving people jobs, but sometimes more hands in the pot can make a real mess. Forget about the human go-betweens and add in a CRM– we're confident you won't regret it. 
Collaboration Station
After the CRM frees up some valuable time for team members, they can focus on more pertinent tasks. What's even better? Those weary tasks won't result in lost information or reports. Input something into the CRM one time, and it will be available for all to see. 
With a CRM, team members don't have to worry about communicating spreadsheets and new information with each other— it's all easily accessible in one place. Less paperwork and side emails make a much more manageable group project. 
More Than Just Collecting Contact Information
CRMs gather contact information from customers and potential customers, but they do much more than that! They can determine leads, generate reports, help with invoices, and track website activity. 
CRMs will even assist with customer service and support, tackling the items that you won't necessarily be able to keep up with by yourself. A growing business means more customers, but that comes with complaints and an increasing focus on customer satisfaction. Let the CRM keep your customer relationships strong and help with returning sales.
Endless Integration Possibilities 
If you are paying for other services and are worried about juggling those on top of a CRM, don't worry– many CRMs can seamlessly integrate with other applications.
For example, Zoho can integrate with many popular applications, like Slack, Shopify, MailChimp, and Quickbooks. They even team up with RingCentral, a phone system designed for small businesses. And (don't worry, we won't list them) we heard Zoho can integrate with RingCentral in 192 different ways!
The Takeaway
Don't sell yourself short simply because your business is small. Start investing in the right tools, and it will jump up to the big leagues before you know it. Woggle will help you find the right CRM fit for your business, and we can guarantee you won't regret it!