Perfected marketing. Glowing reviews. Huge profits.
We're not asking for much, right?
Just kidding– we know there's no perfect algorithm or approach to business. We also know not every customer will be happy and not every transaction will go smoothly. Mistakes will be made and learned from…and probably made and learned from again.
But whether you're selling to other businesses or directly to consumers, a CRM like Zoho CRM is going to get you closer to your goals than you even realize!
We talk a lot about B2B approaches, so today let's focus on why Zoho CRM could be just the thing your B2C biz needs!
Let's dissect B2C and B2B
There are a whole lot of acronyms out there in the business world (and the world in general), and we don't expect you to know them all. However, B2C and B2B are two commonly used phrases and it's good to know the difference between them.
Both refer to selling something (whether a product or service) to someone else. They differ in who the intended buyer is and what category that buyer would fall into.
B2B stands for Business to Business, and refers to companies that sell to other companies. Zoho and all its offerings, for instance, would be considered B2B. 
B2C stands for Business to Consumer and refers to companies that focus on selling to individual people. 
The difference seems pretty obvious, but what really makes them different is the approach companies take and the buyer process. Sure, whether B2B or B2C, companies are going to market what they offer and try to entice their ideal audience. When you market to another business, however, it's an entirely separate ball game: that buyer has to run their options through coworkers and managers. They might even have to run purchase decisions through multiple departments and be obligated to stick within a budget.
A B2C model can target impulse buyers and trendy markets; it can think more short-term. Individual consumers will consider both low-price items and high-price items, whereas B2B buyers will often be spending quite a bit to achieve a long-term purpose. B2C companies are all around you– they sell dog food, sneakers, cell phones, and whatever else you may need on a daily basis. 
IYKYK the importance of CRMs for B2Cs
Not the best use of acronyms, but you get the point. So back to what we mentioned earlier: How can a CRM be helpful to a B2C model?
First, let's review what a CRM is:
CRM stands for Customer Relationship Management and the meaning is pretty straightforward– CRMS focus on obtaining customers, convincing customers to make a purchase, and building and maintaining these customer relationships.
Keeping a close eye on the sales funnel and what works (and what doesn't work) creates valuable insight for companies. How did they find a customer? What information did they initially obtain? At what point did the customer transition from a shopper to a buyer?
CRMs help collect information, develop leads, and create conversions. They also help you follow-up with customers.
Without a CRM like Zoho CRM, lots of information can get lost in the chaos. Many opportunities can be missed and companies may struggle to grow. Effectively using a CRM can help create loyal customers and make your business completely scalable.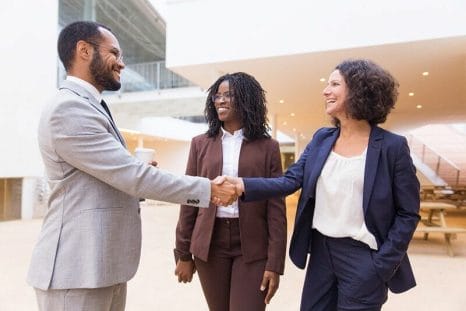 What can Zoho CRM do for a B2C biz?
Expanding further on what we discussed above, Zoho CRM can help your business in so many ways:
Collect valuable metrics - Easily create sales reports and view analytics with one click. Share these reports with the team and use them for process improvement. Analyze your sales funnel and its effectiveness while keeping tons of valuable information organized and attainable. Make smarter, data-backed decisions!
Organize leads and contacts- Zoho allows you to merge other CRMS with their system so you can have all your data in one place. It will also help you collect contact info and determine what leads are worth pursuing. They have products like SalesIQ to make this piece even more seamless.
Analyze your process- Zoho CRM will help you take a look at your sales processes and figure out where some holes could be. Define a process for your sales team with Zoho's Blueprint function and optimize each step through the sales pipeline.
Communicate with customers- After all, customers are the focus with CRMs! Keep in touch with both actual customers and potential customers through email, social media and your website. Keep involved in the conversation people are having about your business!
Manage inventory- Zoho CRM is not just limited to contact information! Let it help manage your inventory and keep your ecommerce side operating better than ever.
Familiar integrations- We love to see some awesome integrations, and Zoho has a lonnngggg list of them! Many of these integrations are applications and companies you are beyond familiar with, which is a huge plus.
One of the best ones? Google Ads! Your business won't get far without the help of Google, so why not have your CRM work alongside it? Other great integrations that you'll recognize are Shopify, Quickbooks, SurveyMonkey and the entire G-suite!
Great Zoho integrations- Easily add on Zoho's 40 other products and create the ultimate combo for your business needs. You even have the option to upgrade to Zoho CRM Plus or Zoho One and immediately get more benefits from their additional features!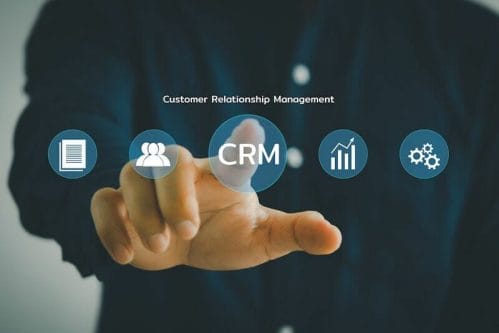 The takeaway
If it isn't already clear, we are huge fans of Zoho CRM here at Woggle! We also happen to be huge fans of a smooth process and a successful business– good thing they all go hand in hand!
Invest in your customer relationship and mitigate some of those unnecessary headaches– give Zoho CRM a try!