The 'customer is always right' ideology has been a staple in businesses for quite some time. And in case you are wondering: yes, this even includes the more…difficult customers (we figured we'd have to clear that up sooner than later).
When it comes to the success of any business (no matter the size), listening to customer opinions and feedback will never lose importance. That's where the rising emphasis on the Voice of the Customer (VoC) comes in– businesses have to constantly consider customer feedback and figure out how it should/can be incorporated in future actions and changes.
While not exactly a brand new concept, there are new and fresh ways to tackle the VoC challenge, especially within CRMs like Zoho. Let's dive a little more into this concept of VoC and why it's important to your business!
A deeper look at the Voice of the Customer (VoC)
When we use the phrase Voice of the Customer (VoC), we don't just mean customer feedback! VoC refers to methods of collecting feedback, analyzing this feedback, and figuring out ways to improve your business with what you decipher.
In reality, will our businesses truly succeed without considering customer opinions? The answer is a definite no; no matter how hard you try, you cannot properly operate without taking feedback into strong consideration.
And let's face it, you are there to serve your customer base, right? The success of your business heavily depends on customer satisfaction! There's no sustainable way to ignore feedback.
Placing a bigger emphasis on the VoC will:
Help with process improvements
Identify weak points (and strengths) within your business model and team
Build trust between you and your customers
Increase the likelihood of customers recommending your product/service to others
Now that you are convinced to more seriously consider the VoC, let's take a look at some tactics!
Ok, so how do I start incorporating the VoC into my biz?
What is the best way to approach the VoC? There's no surefire method that will work for every business! You have to figure out the right message and how to effectively communicate with your customer base, so not all methods are necessarily equal.
A great place to start (and one we often recommend) is Zoho's CRM. CRM = Customer Relationship Management– you can't go wrong with something that has the words customer and relationship right in the title!
No matter your situation, it's best to first take a look at all the products Zoho CRM has to offer and decide what would best suit your business. Then, you can choose your own set of applications and create a model that will best cater to the voice of your customer.
What Zoho products can help me with this?
Let's start with products that deal with more direct customer feedback:
Zoho Social- Social media is a scary challenge to tackle– so many platforms and so many things you might miss! Does social media tend to leave you overwhelmed? (It definitely overwhelms us about 98% of the time!)
With Zoho Social, you can manage DMs (direct messages) from all your platforms all in one place. Zoho will even gather contact details from these conversations and create a work ticket if necessary.
Zoho Social keeps track of Google reviews and questions, social mentions, and wherever your biz is the hot topic of conversation! Pretty appealing to have an app track this kind of thing rather than scroll and search for hours on end!
Zoho Surveys- You know where we are going with this! What better way to understand the VoC than asking customers directly? Zoho Surveys allows you to create customized surveys, even offering over 250 templates to make the process that much easier for you.
Want to ask some questions on Facebook? Okay! Want to send an email survey? Zoho has you covered! Reach customers in whatever way you need to and get the valuable feedback you seek!
Let's chat about Zoho products that deal with more of the customer service/marketing side of things:
Zoho Desk- If you let it, this product can contribute a large piece to that customer service puzzle! Just because you have a small business, you shouldn't be limited to low-tech options. Zoho Desk helps you simplify customer service operations and build a lasting relationship with your customers!
Zoho Desk utilizes AI to tag tickets and send them to the correct employee. It can also identify customer sentiment and set aside issues that caused a negative reaction for further research down the road. Track agent activity, automate follow-ups, and integrate with applications you already use.
Zoho Desk will analyze data and patterns to well-equip you for future decisions. Plus, even though it's high-tech, your customer will still have a super personalized experience!
Zoho Sales- Sure, the name seems simple– but we all know the strategies behind 'sales' are much more complex! A key part of sales is catering to your audience and cultivating a relationship with your customers. With Zoho Sales, you can analyze content performance, where site visitors spend their time, and figure out the best way to start conversations with prospective customers. Sync data with Zoho CRM and create a fine-tuned message for your audience!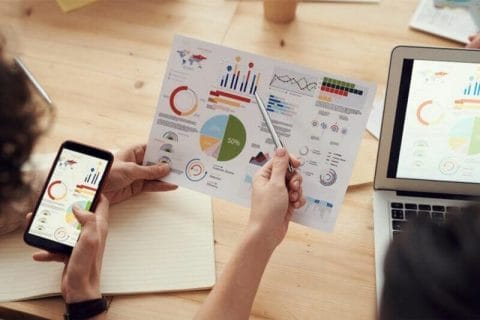 Wrapping Up
The Voice of the Customer may seem like an overwhelming and complicated adventure, but it doesn't have to be. You already consider the voice of your own customers on a daily business whether you realize it or not!
The key takeaway here is figuring out how to use the data behind the VoC and tailor your operations for ultimate customer satisfaction! There's always room for improvement, and Zoho's CRM is ready to help, and so are we!