Chances are, you have used spreadsheets at some point in your life. For business or personal tracking purposes, spreadsheets are commonly used and can be pretty handy.
However, as new software and resources become available every day, are spreadsheets relevant? And more importantly, is the spreadsheet route genuinely ideal for your business?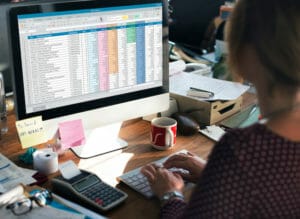 For every devoted spreadsheet fan, there's also a scary anecdote– like that time when JP Morgan Chase lost over 2 billion bucks because of one spreadsheet error.
Okay, okay– enough with the extreme (and terrifying) examples. It's time for you to decide for yourself whether you are Team Spreadsheet or not. And to help, we've listed out some nice pros and cons for you to consider.
Let's Start With the Spreadsheet Pros :)
Spreadsheets are free and easily accessible. This point takes the top of the list for obvious reasons– we all love a cheap or free solution!
There are tons of free templates out there. Why take the time to start from scratch? Search Instagram for accounts that offer templates or take a look at websites like HubSpot. You won't have to look too far to find some solid templates that suit your needs.
Anyone can quickly learn to use spreadsheets, and businesses are happy about that. Why utilize something that requires investing time and money into extra training? Many people know spreadsheet basics, and if they need to learn something new, they can access a YouTube video tutorial in no time.
Spreadsheets can lead to effective collaboration, especially on suites like Google and Zoho, where all team members can access the same documents. Instead of emailing the spreadsheet to each person, collaborators can simply log on and easily access whatever is shared with them.
Spreadsheets can be a reliable approach for growing businesses, especially for new companies that don't know what they need quite yet. It takes time to find software and resources that fit your needs and even more time to figure out what's worth paying for. You can save money and use spreadsheets until you know what's necessary.
Now Let's Take a Look at Some Spreadsheet Cons :(
User error is inevitable. Yes, let's address the elephant in the room: many things fall victim to user error and can cause irreparable damage to companies (see JP Morgan example above). One tiny mistake can lead to a waterfall of other mistakes, not to mention hours of combing through the spreadsheet to find the problem source.
Integration with other software and applications is limited. Sure, you can import and export data, but can you seamlessly exchange data between spreadsheets and all your other software? Depending on what you use (and your business needs), this is not always a walk in the park. This is why businesses often eliminate spreadsheets as the middle man altogether.
Manual entry is inefficient and just not ideal. With spreadsheets, someone has to enter any new data manually, and that's just wasting time that can be saved by automation. In a 2021 Zapier report, 88% of SMBs surveyed said automating processes makes them more competitive with larger companies. Additionally, 1 in 5 surveyed said automation improves their accuracy and efficiency.
Research shows that automation is a great way to go. As we mentioned before, spreadsheets are a solid, free option to begin with, but eventually, your business will outgrow them. So when is the appropriate time to start looking into alternative, automated options for your business? Probably sooner than later!
Spreadsheets can be dense with limited visualization ability. Searching through thousands of lines on a spreadsheet is not exactly how we like to spend a casual weekday afternoon, and we're decently confident you feel the same way. Spreadsheets can 'report' and offer some analytics, but they are limited. This is particularly key if your business wants to look at trends over time or some older numbers– spreadsheets aren't great for either.
There are more manageable, well-priced options out there. Companies like Zoho are out there, making it possible for businesses like yours to automate processes and manage everything in one place. Why use spreadsheets to save time as a busy business owner by putting all aspects under one umbrella?
Wrapping Up
Well, there you have our list of spreadsheet pros and cons. As a company that's all about automated solutions and making the lives of business owners a little easier, Woggle tends to lean away from spreadsheets.
So, where do you stand on this 2022 Spreadsheet debate? (No pressure to take your side right this moment!) As always, if you remain confused about what options would be better for your business, Woggle is always here to help guide you in the right direction!