Blog posts aren't obsolete. If so, then we'd be wasting our time writing this and you would be wasting your time reading it, right? Writing blog posts are a great way to increase website traffic, generate leads, and showcase your expertise. Readers also get a closer look at your brand and learn to trust your validity as a service provider or eCommerce store. Of course, not all blog posts are well-written and won't perform well in a search engine. We teamed up with our partners over at Lucent Creative, a woman-owned digital marketing agency, to bring you the best tips on writing blog posts that convert.
We asked Lucent Creative's copywriter and content writer Nikki for more insight on the five mistakes to avoid when writing blog posts.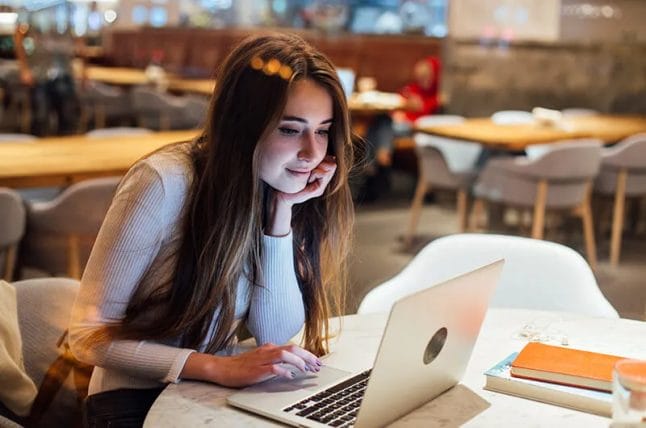 Don't Write for the Masses
Just because your blog post covers a wide subject doesn't mean it will pique the interests of a wider audience. Know your ideal reader, or target audience, and create content exclusively for them.
Nikki shared, "It's tempting to take a trending topic and write broadly about it. If anything, you imagine it would rank well in search engines since it's a popular subject. The truth is, that you always want to optimize your writing for your ideal customer. There are a lot of books out there, but authors choose a genre, then a sub-genre, and then continue to specify down to the demographic they're writing for. The same is true for writing blog posts.
Know your audience and know them incredibly well. It affects the language you use when writing, how you speak to their needs, and of course, how successfully your blog performs once it's out in the world."
Here are some quick tips on staying focused when writing blog posts for your specific audience:
Avoid slang words and phrases unless your ideal audience would use them in their daily conversations.
Stick to a script. Create a Brand Messaging Guide to ensure your writers are all on the same page.
Develop an ICA (Ideal Client Avatar). Create an entire profile on your ideal audience—including their age, hobbies, interests, and values. Then, imagine them as you're writing.
Don't Neglect Alt Text
Utilize Alt text on photos and other visuals in your post. It's not only helpful for SEO optimization but is also considerate of your readers who may be visually impaired. 
"The trick with alt text is to keep it concise. Bring out the most vital aspects of the photo with as few words as possible. Thankfully, many stock photo sites have already provided alt text for you.", Nikki says.
The example below shows that Pexels, a stock photo and video site, provides alt text in the URL. Nikki adds, "Make sure you look at the URL or texts provided by these sites so you can optimize them for your blog. Some photos may have alt text that is too general."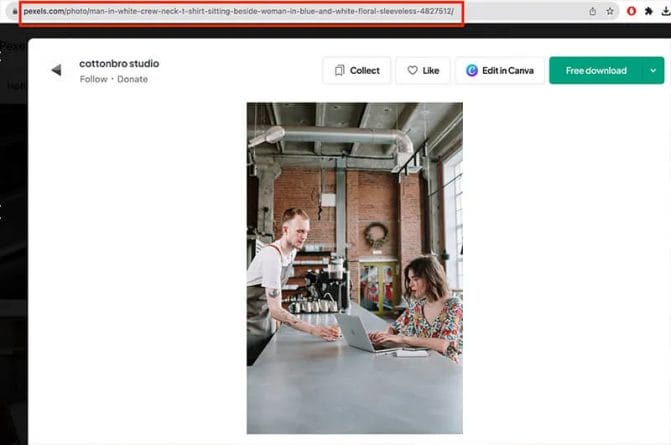 Don't Forget to Format
"Formatting is one of the biggest mistakes people make in their blog posts. Attention spans are short and you want your audience to get the most from your writing at a glance."
Nikki gave us formatting tips to make the most of our blog reach:
Ensure your blog title is SEO-friendly for your niche and your target audience
Make an engaging first sentence that includes your focus keyword.
Include the Focus Keyword in your blog title
Use headers H1 as your main title, H2s as subsections under that, and H3s as subsections under the H2s. Keep them in order from H1 to H3 for a clean structure. If you need more layers, use H4-6 for extra details
Short paragraphs and sentences are ideal. Google recommends sentences not to exceed 25 words.
Use a tool like Grammarly to keep your writing concise
Don't forget the alt text or descriptions placed beneath the visual
Utilize visuals to break up text and keep readers engaged. Ensure that the image file size is not too large; this will impact your speed, performance, and ranking abilities
Give your audience an obvious path to follow (i.e., "Buy Now", "Get Started for Free")
The ideal blog post will be easy to read. Formatting is one of the most important aspects of a blog that performs well.
Don't Miss Out on Multiple CTAs
A call to action is crucial in creating a blog that generates leads. A confused audience won't take the intended next steps unless you show them how.
Here are a few examples of commonly used CTAs:
Buy Now
Get Instant Access
Sign Up
Become a Member
Get Started
Save Now
Share
Download Now
Enroll Today
"Make sure your CTA matches your blog topic. When writing blog posts, it's also important to link your CTA to the appropriate page. If your blog is educating the audience on your newest app feature and your CTA is "Download Now", but the CTA button is linked to the "About Us" page then that complicates the reader's journey. Your audience will bail if the CTA isn't seamless.", Nikki instructs.
Don't Forget to Backlink
This one is huge. Include backlinks in your posts to relative information you have created in the past. Woggle does this often to optimize our posts.
Internal backlinks have multiple perks, including:
Giving your readers additional information about your product or service
More links mean more CTA options, prompting your audience to take the leap
It's beneficial for SEO rankings when the link you're adding refers to your own content (such as a blog post or page) because it can help improve domain authority
Take a moment to think through your current blog content. Are the posts optimized with internal backlinks? It's an easy fix and we recommend taking time to implement links in your content.
Before You Go
If your team needs a hand optimizing current content or writing blog posts that convert, get in touch with Lucent Creative's team.
Nikki wraps up our interview with one last gem:
"Helping business owners connect with their audiences is one of my favorite aspects of my job. They have worked hard to build something their passionate about and they deserve to foster the leads they deserve. I get it–writing blog posts is one of those business tasks people don't necessarily look forward to or enjoy. Thankfully, I love what I do and Kendall's team is always happy to help."
Emails still rank at the top of the charts in marketing and are crazy-successful if you execute them correctly.
Even with new social media platforms bursting onto the scene at what seems to be daily, a good old-fashioned email campaign still performs the best. Here are a few stats from HubSpot showing just how big of a punch emails throw at the competing platforms.
There are 4 billion (with a 'b'!) daily email users.
Smartphone users prefer to receive brand communications via email.
99% of email users check their inbox every day, with some checking 20 times a day. Of those people, 58% of consumers check their email first thing in the morning. 84.3% of consumers say they check their emails at least once a day.
These stats are proof that you have a willingly captive audience that your organization only needs to tap into.
So, how do you create an email marketing campaign that engages your audience, generates new leads, and increases revenue? Don't worry. We reached out to our partners at Lucent Creative, a female-owned digital marketing agency, and they agreed to give you the exact formula for a wildly successful email marketing campaign!
Set Your Goal
"Casting a wide net with your email campaign isn't the key to success. You want to be specific by setting an overall goal for each campaign.", Lucent Creative's Founder and CEO, Kendall Walker shares.
Here are a few examples of goals you can associate with your email campaigns:
Increase sales by nurturing warm leads
Generate new leads
Build brand awareness
Incentivize involvement from investors, partners, or collaborators
Lucent Creative's copywriter, Nikki Newbauer, spoke to the value of setting specific goals. "Knowing your overarching goal for the email campaign will create synchronicity for your creative team. Everyone from your copywriter to graphic designer will be on the same page which creates a clear and concise path for your readers to follow."
Below are the general categories most email campaigns fall under.
Announcement (new product/service launch)
Promotional (sale on a product/service)
Educational (company updates i.e. collaboration, new leadership, etc.)
Customer Appreciation (VIP discounts, special thanks, etc.)
The more specific you are with the intention of your email campaign, the more success you will have in reaching your intended audience and reaching your goal. 
Create Enticing Subject Lines
"Readers will either opt-in by opening your email or deleting based on the subject line. Of course, you always hope your content will be enticing enough that email subscribers will open every email from your brand, but that isn't the case.", Nikki added.
Pro Tip: Spruce up your email subject lines with emojis and by using the subscriber's first name.
Here are great subject lines to stir some engagement with your emails.
You don't want to miss this! 👀
[Subsciber's first name], did you miss the news? 🫢
Our biggest announcement of the year! 🥳
A peek behind the scenes 👀
[Subscriber's first name], we messed up 😬
[product] is launching in 3…2…1 🚀
[Subscriber's first name], you're not alone 💛
[Subsriber's first name], don't forget to [action step]* *i.e. Subscribe, purchase, etc.
Don't delete ❌ 
Write for Humans
Of course, you want your writing to reflect the underlying goal of the email, but nothing gets people to unsubscribe from your email list faster than impersonal content. Write for humans, not sales (or whatever your email campaign endgame is). "If you choose to use AI platforms like ChatGPT to generate your email copy, please edit with a heavy hand. AI platforms may be able to churn out copy on a whim, but the writing is typically riddled with impersonal verbiage that isn't relatable to readers.", Nikki stresses.
Deep-Dive: To see more of our take on ChatGPT in marketing, read this post.
Nikki gave us a few tips to follow to make your email campaign a success.
✔️ Set your email platform to address subscribers by first name.
✔️ Address the subscriber's potential struggle (with empathy) before presenting your solution.
✔️ Offer a minimum of two CTAs (calls to action) in your email so readers can engage.
✔️ Include 4-6 emails in your campaign, spacing them out 1-2 days.
✔️ Incorporate your company's social media outlets for readers to follow.
✔️ Have a privacy policy in fine print at the bottom of each email.
✔️ Create a consistent brand voice across all emails and marketing efforts.
❌ Don't make assumptions about your readers (i.e. "You probably don't know…", "We bet you don't…").
❌ Don't write long emails (300+ words). Get to the point quickly.
❌ Send emails without working CTA buttons (test, test, test!).
❌ Send emails without an opportunity for readers to unsubscribe at their will.
❌ Don't pitch an opt-in without thoroughly explaining the product/service.
Watch Your Analytics
Test your emails to see what your subscribers are engaging with. Knowing how your emails are performing is vital to your email campaign's longevity. Use an email campaign platform that allows deep-dive analytics through A/B testing. Testing your emails is an entire science in and of itself so research how to set your platform to do the hardest work for your team.
Before You Go
Remember, your email campaign won't be perfect. Use analytics to learn and adjust accordingly. Emails are a great way to build rapport with leads and build brand awareness. Follow these tips and let us know how your future email campaign goes!
Please do us a favor. Reach out and let us know if you're finding these marketing posts useful in your business. Have a suggestion? Let us know!
So, you jumped on the Zoho wagon to save yourself and your team time, money, and some sanity.
Learning the nuances of Zoho can be a journey of its own, but the more you learn how to navigate the platform, the more you'll be forever convinced of its stellar magic.
Streamlining your systems hasn't just boosted your revenue, but helped you track leads, and nail your marketing efforts–you're finding you have more time to monetize your expertise! Becoming a Zoho consultant not only keeps you in the rhythm of the platform but helps you pave a unique career path with a skill set that companies need.
The Perks of Being a Certified Zoho Consultant
Automation is here to stay.
Companies are relying more on CRM platforms than ever before and it's no wonder. They're incredibly effective in saving businesses valuable resources (i.e. time, overall operations budget, training expenses, and the list truly goes on for ages).
With the reliance on technology comes the necessity to be trained on how to use it!
Enter Zoho Consultant with superhero abilities and a kind smile.
In all seriousness, though, Zoho Consultants are in demand, making it a lucrative career. If you're really into the benefits of using Zoho, have a knack for tech, and enjoy helping people succeed, you're going to enjoy the consultancy life.
How does someone become a Zoho Consultant?
Like the last season of Game of Thrones, we can't leave you confused and disappointed (we're still haunted by it).
Here's how to become a Zoho Consultant in a few simple steps!
Join Zoho Expert Bootcamp by The Workflow Academy
Our friends over at The Workflow Academy have put together a brilliant online course for those interested in chartering the waters as Zoho consultants. They've been in the game for a long time and have put together incredible all-inclusive training to get you to an expert level in just two months!
They pitch the course perfectly:
"Our 2-month Zoho Expert Bootcamp is the world's foremost Zoho career training – widely recognized as being the best way to "jump-start" someone's Zoho expertise and make them rapidly useful as a Zoho Admin / Architect/ Developer."
Know Your End Goal as a Zoho Consultant
The best bit of TWA's (we're on an acronym basis), is their training is fully customizable to your unique needs and career goals. This means you're not paying for information you don't need. It isn't a cookie-cutter approach to Zoho training.
As you already know, Zoho has so many integrations and we've rarely seen a business that uses the platform in the same exact way. The Workflow Academy will help you decide which courses align with your end goal.
Work your way through these prompts to begin setting your goals:
What is my monthly revenue goal?
How can I use the contacts I already have to get my first client?
Which areas of the platform do I most enjoy?
Do I want to work solo or join an agency?
These answers may change once you begin the course, but it's good to have an idea of where you want to land once you get certified.
Here are the paths TWA has on offer: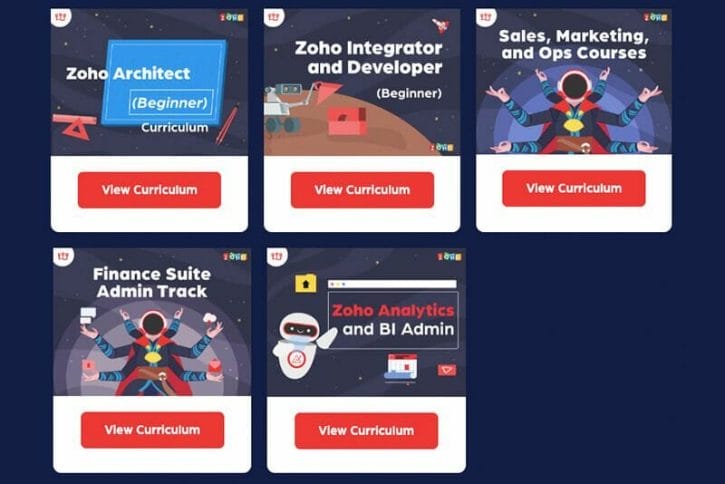 Take a peek at their full menu of curriculum options here.
Are you ready to jump in and get started on your path to becoming a Zoho Consultant? Get in touch with the TWA team here.
Start the Job Search
You can branch out on your own as a consultant or choose to join an agency. Freelancing as a Zoho Consultant is always an option, too.
Setting goals for how and when you want to work as a consultant will help you narrow down your search.
We recommend building your portfolio and gathering testimonials from satisfied clients before branching out on your own. Having a robust folder of case studies will allow you to garner more leads and get the ball rolling if you decide to open an agency of your own one day.
We're always fans of networking! Stay in touch with The Workflow Academy after your certification and reach out to us anytime. We are happy to answer questions, make introductions to others in the business, and cheer you on.
Zoho Consultant roles haven't become overly saturated in the wider market…yet. It's prime time to jump into this lucrative career option!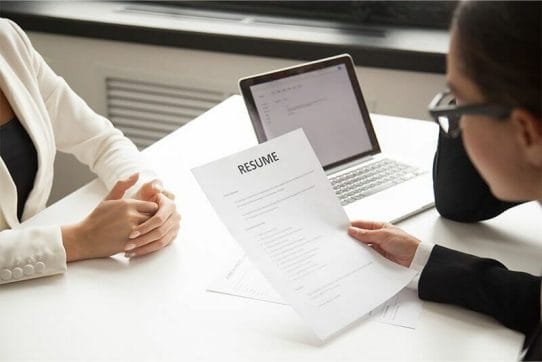 Key Takeaways
Training to be a certified Zoho Consultant is a great career path (we may be biased) and is rewarding.
If you're just getting started with Zoho, be sure to read our other blog post about The Workflow Academy.
Maybe you're new here (welcome!) and wonder if Zoho is right for your business. Go start a free trial and take it for a spin. You won't be disappointed!
Here are a few bonus nuggets to add to your reading list:
If you don't have the time to spare or have zero interest in being a Zoho Consultant, get in touch with our team. We'll help you with integration and support!